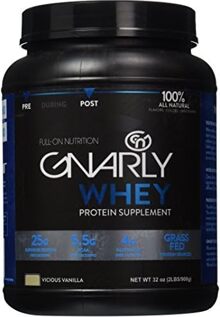 Gnarly Nutrition Gnarly Whey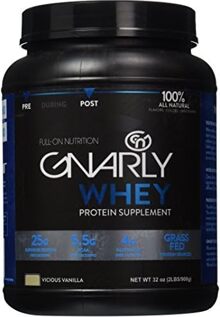 Gnarly Nutrition Gnarly Whey
FEATURES OF GNARLY WHEY
GRASS FED WHEY PROTEIN SUPPLEMENT
Gnarly Whey gives your body the protein needed to recover from a difficult workout, build lean muscle and increase your body's energy. Gnarly Whey is from grass-fed cows, free of hormones, antibiotics and other chemicals. Additionally, we've included a digestive enzyme blend in all of our protein products to increase bioavailability and assimilation.*
NO ARTIFICIAL COLORS,
FLAVORS OR SWEETENERS
GRASS FED WHEY PROTEIN SUPPLEMENT
HEALTH BENEFITS
Gnarly Whey is exceptionally rich in highly bioavailable, essential amino acids. This allows your body to recover properly from a difficult workout, build more lean muscle mass and increase the energy available for your body.* We ensure our protein has come from grass-fed cows and is highly absorbable.* Our whey is free from growth hormones, antibiotics, hyper-immunizations and other chemicals.
12.5g
5g
2g
80
SUPERIOR PROTEIN
TOTAL CARBS
DIETARY FIBER
CALORIES
"THIS STUFF IS #@%$ AMAZING"
-KRISSY / CROSSFIT / TEAM GNARLY
AMAZING TASTE
At Gnarly, we believe that natural nutrition doesn't have to taste awful. Gnarly is dedicated to developing products that deliver in function and taste. Accomplishing this with natural ingredients is challenging, but we are committed to natural products that support your lifestyle while tasting and mixing better than any other brand out there.
"I TAKE GNARLY BECAUSE BEING NATURAL IS A PRIORITY FOR THIS MAMA"
-NANA HEALTH / MOMMY FITNESS BLOGGER / TEAM GNARLY
HEALTHY AND CLEAN
Gnarly only uses superior, natural ingredients, and you can feel and taste the difference. When using Gnarly products your avoid putting unneeded artificial colors, flavors and sweeteners into your body. Gnarly products are GMO-free and gluten-free. You can feel confident that Gnarly is clean and healthy.
BENEFITS OF GRASS-FED WHEY
"I'M NOT A PROTEIN SHAKE FAN, BUT THIS STUFF IS AMAZEBALLS!"
-ZAC MARION / ULTRA RUNNER / TEAM GNARLY