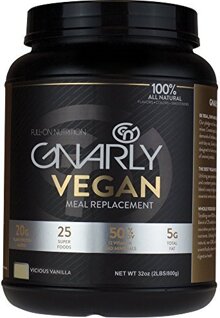 Gnarly Nutrition Gnarly Vegan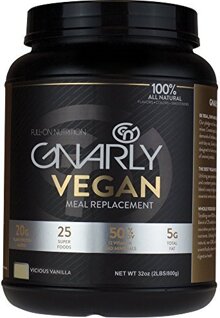 Gnarly Nutrition Gnarly Vegan
FEATURES OF GNARLY VEGAN
PLANT PROTEIN MEAL REPLACEMENT
Gnarly Vegan is created specifically for active individuals that need an alternate protein to animal protein. Designed without artificial ingredients and only the highest quality plant proteins making for the best tasting, mixing and most enjoyable plant protein powder on the market.
NO ARTIFICIAL COLORS,
FLAVORS OR SWEETENERS
PLANT PROTEIN MEAL REPLACEMENT
HEALTH BENEFITS
Gnarly plant-based protein powder contains all 9 essential amino acids (phenylalanine, valine, threonine, tryptophan, methionine, leucine, isoleucine, lysine, and histidine). Essential amino acids cannot be synthesized by the body and thus need to be supplied by diet. Gnarly's Vegan blend is also very high in BCAAs to help your body function optimally. After all, nobody likes excuses.
10g
8.5g
4.5g
100
PLANT PROTEIN
TOTAL CARBS
DIETARY FIBER
CALORIES
"IT'S A SAD DAY WHEN YOU THE BOTTOM OF YOUR GNARLY VEGAN"
-ZAC MARION / ULTRA RUNNER / TEAM GNARLY
AMAZING TASTE
Gnarly Vegan has a rich flavor profile without the chalky, grainy, mouth feel of other plant proteins. Containing pea protein isolate, chia and cranberry proteins, and half the daily vitamins and minerals your body needs makes Gnarly Vegan the perfect vegan protein powder. Furthermore, you'll be impressed by how well it mixes with water.
"BEST VEGAN PROTEIN. PERIOD."
-TYLER / CUSTOMER / TEAM GNARLY
HEALTHY AND CLEAN
Our plant, protein powder is pea-based making it naturally fat – and cholesterol free. Being non-dairy makes it the perfect protein for the lactose-intolerant. To top it all, Gnarly Vegan includes digestive enzymes, making it easily digestible to get the nutrients your body needs. In Gnarly Vegan, you get the protein benefits of whey, but without the animal products.
VEGAN PROTEIN
"THERE ISN'T A FUNKY AFTER TASTE LIKE OTHER PLANT PROTEINS"
-TIFFANY / CONSUMER / TEAM GNARLY