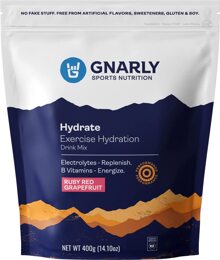 Gnarly Nutrition Gnarly Hydrate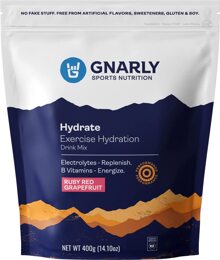 Gnarly Nutrition Gnarly Hydrate
FEATURES OF GNARLY HYDRATE
ELECTROLYTES - B VITAMINS - HYDRATION
Gnarly Hydrate is the ultimate hydration product for any activity. Add to water and you have a combination of electrolytes for your body and B-vitamins for sustained energy without a the huge sugary mess. Gnarly Hydrate is naturally flavored and sweetened, making it the perfect addition to your next activity.
NO ARTIFICIAL COLORS,
FLAVORS OR SWEETENERS
GNARLY PROTEIN NUTRITIONAL SHAKE
HEALTH BENEFITS
As you work out, dehydration can slowly become your worst enemy. Gnarly Hydrate keeps you hydrated so you can focus. Gnarly Hydrate gives you the electrolytes you need plus 72 trace minerals and B vitamins for energy and focus, leaving you free to choose how you get your calories and carbohydrates. No more sugary mess of a hydration drink to deal with, and no more worrying that dehydration will get you before you can show what you are made of.
"IT HAS ALL THE STUFF I NEED WITHOUT ALL THE STUFF I DON'T"
-FORREST COOTS / PROFESSIONAL ATHLETE
AMAZING TASTE
At Gnarly, we believe that natural nutrition doesn't have to taste awful. Gnarly is dedicated to developing products that deliver in function and taste. Accomplishing this with natural ingredients is challenging, but we are committed to natural products that support your lifestyle while tasting and mixing better than any other brand out there.
"ALL THE ENERGY WITHOUT THE NASTY AFTER TASTE"
-TEONNA KOLAR / CONSUMER
HEALTHY AND CLEAN
Gnarly only uses superior natural ingredients. You can feel and taste the difference. When using Gnarly products, you avoid putting unneeded, artificial colors, flavors and sweeteners into your body. Gnarly products are GMO-free and gluten-free. You can feel confident that Gnarly is clean and healthy.
HYDRATION
"EASE OF USE AND GOOD FLAVOR IS A GREAT INCENTIVE TO DRINK MORE FLUIDS"
-MARINA / CONSUMER