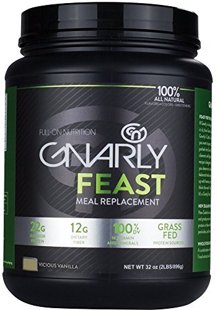 Gnarly Nutrition Gnarly Feast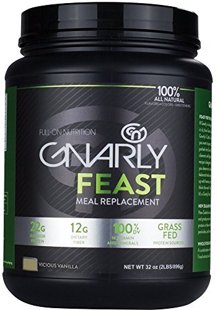 Gnarly Nutrition Gnarly Feast
FEATURES OF GNARLY FEAST
NUTRITIONAL PROTEIN SHAKE
Gnarly Feast is a convenient nutrition shake sourced from high quality ingredients. Each serving of Gnarly Feast provides high protein, high fiber, a whole food blend and daily vitamins and minerals, allowing you to get the nutrition you need while on the go. Use Gnarly Feast when you need quality nutrition without all the hassle.
NO ARTIFICIAL COLORS,
FLAVORS OR SWEETENERS
GNARLY PROTEIN NUTRITIONAL SHAKE
HEALTH BENEFITS
With over 8000 milligrams of whole food concentrates from 25 unique sources, including phytochemicals, polyphenols, and antioxidants, the whole foods found in Gnarly Feast are designed to give your body access to a diverse field of nutrients. Gnarly Feast is packed with 100% of the daily value of 16 vitamins and minerals, 21 grams of New Zealand Whey Protein, our Whole Food, Fiber and Antioxidant Blend, as well as our Adaptogen and Immune Boosting Blends.
11g
13.5g
6g
100
SUPERIOR PROTEIN
TOTAL CARBS
DIETARY FIBER
CALORIES
"IT'S A FULLY BALANCED MEAL REPLACEMENT THAT WILL KEEP YOU SATISFIED"
-ALI BLACK / PROFESSIONAL ATHLETE
AMAZING TASTE
At Gnarly, we believe that natural nutrition doesn't have to taste awful. Gnarly is dedicated to developing products that deliver in function and taste. Accomplishing this with natural ingredients is challenging, but we are committed to natural products that support your lifestyle while tasting and mixing better than any other brand out there.
"WHAT I REALLY LIKE ABOUT IT IS THAT IT'S CLEAN"
-FORREST COOTS / PROFESSIONAL SKIER
HEALTHY AND CLEAN
Gnarly only uses superior, natural ingredients, and you can feel and taste the difference. When using Gnarly products, you avoid putting unneeded, artificial colors, flavors and sweeteners into your body. Gnarly products are GMO-free and gluten-free. You can feel confident that Gnarly is clean and healthy.
PROTEIN PLUS
"I LIKE IT BECAUSE IT SUSTAINS ME BETWEEN MEALS"
-ZACK PRICE / GYM INSTRUCTOR /TEAM GNARLY