Quick Links to Best Prices Price History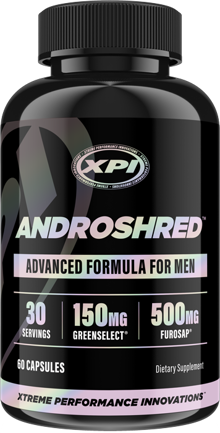 SPECIALLY DESIGNED JUST FOR MEN
MADE IN USA, GMP COMPLIANT FACILITY
SUPPORTS METABOLISM, TESTOSTERONE, & ENERGY
ENCOURAGES HEALTHY MALE HORMONAL BALANCE
Creatine HCl increases the body's ability to recycle ATP and causes muscle cells to swell, supporting performance and definition.
Agmatine Sulfate works to increase N.O. production, thus increasing blood flow & physical output to increase overall performance.
Fenugreek is a natural herb and aphrodisiac that works to increase testosterone and boost libido.
ANDROSHRED: AN ADVANCED FORMULA FOR MEN
Testosterone levels naturally decline with age, as do levels of other key hormones, nutrients, and neurotransmitters. This is why aging is typically accompanied by a decreas in muscle mass, lower libido, dragging energy levels, difficulty focusing, and frequent plateaus.
Knowning that nearly all aging men encounter these problems, XPI set out to create AndroShred – and advance formula designed specifically for the unique physiology of the male body. AndroShred is designed to give you the results you seek! With clinically tested ingredients fenugreek[1], zinc[2], and creatine HCl[3], among others, AndroShred will get you back on track.
Forget about losing muscle mass when trying to lose weight! AndroShred promotes a boost in testosterone so that you'll be able to retain your muscle mass, all the while cutting the fat.
References [+]
References [-]
[1] Steels E, et al. Physiological Aspects of Male Libido Enhanced by Standardized Trigonella Foenum-Graecum Extract and Mineral Formulation. Phytotherapy Research. 25:9. (2011): 1294-1300.
[2] Brilla LR, Conte V. Effects of a Novel Zinc-Magnesium Formulation on Hormones and Strength. Journal of Exercise Physiology. 3:4. (2000): 26-36.
[3] Greenhaff PL, et al. Effect of Creatine Supplementation on Skeletal Muscle Phosphocreatine Resynthesis. American Journal of Physiology Endocrinology and Metabolism. 266:5. (1994): 725-730.
* RESULTS MAY VARY