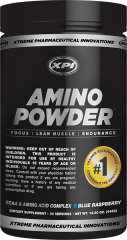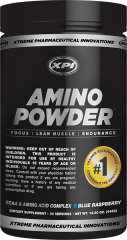 TEAR DOWN & REBUILD
RAPID ABSORPTION EFFERVESCENT FORMULA
4:1:1 BCAA RATIO FOR GROWTH & RECOVERY
INTENSE HYDRATION & ENDURANCE COMPLEX
PERFECT PRE, INTRA, AND POST EXCERCISE
FOR EVEN GREATER RESULTS
XPI Amino Powder is the newest, most innovative amino acid technology on the market. XPI Amino Powder rejected the outdated standard of a 2:1:1 ratio and upgraded to a 4:1:1 ratio – offering 4 times the leucine for 4 times the results. This formula is crucial for kick-starting muscle growth and supporting more efficient recovery. In addition, XPI Amino Powder offers coconut water and electrolytes for intense hydration and endurance throughout your entire workout.
Branched-chain amino acids play a key role in endurance, muscle growth, and recovery, but levels of BCAAs in muscles are depleted during exercise.[1] XPI Amino Powder features a powerful combination of essential BCAAs – particularly leucine – to restore BCAA levels and initiate the muscle-building response.[2] And with XPI Amino Powder Absorption Enhancement Complex, these nutrients can be absorbed quickly and more efficiently for even greater results!
XPI Amino Powder does more than just build muscle. It provides amino acids that boost energy and focus without the use of caffeine. It also contains compounds such as glutamine and citrulline malate for hyper vasodilation and increased blood flow.[3,4] XPI Amino Powder pumps your body with energy, power, and razor-sharp focus to make you unstoppable.
With zero calories and zero grams of sugar, this 4:1:1 amino acid formula is a convenient recovery system that can be taken anytime, anywhere.
References [+]
References [-]
[1] Blomstrang E, et al. "Changes in Plasma Concentrations of Aromatic and Branched-Chain Amino Acids During Sustained Exercise in Man and Their Possible Role in Fatigue". Acta Physiologica Scandinavica. 133:1. (1988): 115-121.
[2] Karlsson HK, et al. "Branched-Chain Amino Acids Increase p70S6k Phosphorylation in Human Skeletal Muscle After Resistance Exercise". American Journal of Physiology, Endocrinology, and Metabolism. 287:1. (2003): E1-E7.
[3] Hiscock N, et al. "Glutamine Supplementation Further Enhances Exercise-Induced Plasma IL-6". Journal of Applied Physiology. 95:1. (2003): 145-148.
[4] Perez-Guisado J, Phillip JM. "Citrulline Malate Enhances Athletic Anaerobic Performance and Relieves Muscle Soreness". Journal of Strength and Conditioning Research. 24:5. (2010): 1215-1222.
* RESULTS MAY VARY