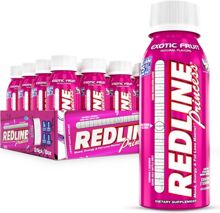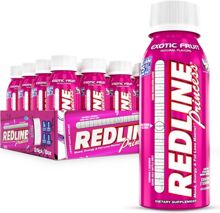 Enhances Mental Clarity, Mood, Energy And Fat Loss!
Finally, VPX has topped off the Redline family with the brand new RTD breakthrough designed especially for women, REDLINE PRINCESS.

The biggest concern women seem to have with most "energy products" is that they don't want to feel totally "jacked up!" Redline Princess however, provides women with the same level of energy as original Redline, but with the added bonus of appetite suppression and mood enhancement, which is nothing short of euphoric.

Cutting-edge compounds formulated in Princess work synergistically to burn fat and increase mood and mental focus, while decreasing appetite. VPX Scientists even added a little bit of ß-Alanine (an amino acid that acts as a buffer to delay fatigue) to allow you to exercise longer and harder, which ultimately help get you that much closer to your dream physique.

Beta-Phenylethylamine HCl (PEA) contained in Princess raises blood pressure and blood glucose. The result is that we feel more alert and gives us a sense of well-being and contentment. PEA is known as the "love drug" and is thought to be the reason why chocolate is an aphrodisiac. PEA mimics the brain chemistry of a person in love, so when the levels of PEA (phenylethylamine) are high in the body depression is relieved. This is the exact reason why women love chocolate so much; it really is a mood elevator! Because Redline Princess has zero calories, you get to experience the same euphoria of 1,000 bars of chocolate minus the calories and the guilt.

---
VPX Redline Princess Benefits
Zero Carbs

Zero Sugar

Non Carbonated

2 servings per bottle

"Very Potent"
---
Proprietary Blend
Vit C - antioxidant, increases immune function, helps to heal skin, metabolizes cholesterol

Caffeine Anhydrous - central nervous system stimulant, ergogenic aide, energy booster, increases heart rate efficiency, vasodilator, aids in breakdown of fat for energy. Caffeine increases energy levels, reaction times and alertness, improves endurance, and allows the muscle cells to use greater amounts of fat than usual. Caffeine is also thought to suppress appetite.

Evoburn - thermogenic breakthrough, increases energy
, slight diuretic properties.
5-HTP -
increases serotonin levels
Vinpocetine -
increases metabolism, antioxidant effect similar to Vit E.
Yohimbine HCL -
appetite suppressant, prevents release of norepinephrine.
Beta-Alanine -
amino acid; may act as an antioxidant and physio-chemical buffer to delay fatigue.
Hordenine -
stimulates norepinephrine release, CNS stimulant. Norepinephrine is a hormone that energizes the body & is lipolytic (liberates lipids from adipose tissue). It also slows digestion of food and is considered a bronchodilator.
Potassium Citrate -
used as a mild diuretic.
St. Johns Wort Extract -
Mood elevation, decreases anxiety.
Beta-Phenylethylamine HCL -
a chemical related to amphetamines and raises blood pressure and blood glucose levels. The result is that we feel more alert and gives us a sense of well-being and contentment. It is believed to work by making the brain release b-endorphin, an opioid peptide which is the driving force behind the pleasurable effects. It is known as the love drug and is thought to be the reason why chocolate is said to be an aphrodisiac (it is contained in chocolate). It is a chemical that mimics the brain chemistry of a person in love. This is one of the reasons so many women love chocolate - it really is a mood elevator!
N-MethylTyramine -
Alpha-2-Adrenoreceptor Antagonist - similar effects as yohimbine (good stuff!).
Supplement Facts:
Serving Size: 1 Can (4fl oz)
Servings Per Container: 48
Amount Per Serving:
Calories 0
Total Carbohydrate 0g 0%
Sugars 0g 0%
Total Fat 0g 0%
Saturated Fat 0g
Unsaturated Fat 0g 0%
Proprietary Blend less than 20%
Beta Alanine
Vitamin C (Ascorbic Acid) 200%
Caffeine 125mg
Beta Phenylethylamine
Hordenine HCL
Evoburn(Tm)(Evodiamine)
N-Methyl Tyramine
5-Hydroxytryptophan
Potassium (As Potassium Citrate)
Vinpocetine
Yohimbine HCL
St. Johns Wort Extract
Other Ingredients:
Highly Purified Water, Citric Acid, Natural And Artificial Flavors, Sucralose, Potassium Phosphate Dibasic, Di-Sodium EDTA
Directions: Shake well prior to use. Always begin use with one-half can (4oz.) of Redline daily to assess tolerance. Never exceed more than one can daily. Do not consume Redline on an empty stomach. Consuming Redline on an empty stomach may cause nausea.
Disclaimer: Manufacturers continually change product specifications. While we try our best to keep product descriptions up to date, they do not necessarily reflect the latest information available from the manufacturer. We are not responsible for incorrect or outdated product descriptions and/or images.
These statements have not been evaluated by the Food and Drug Administration. This product is not intended to diagnose, treat, cure, or prevent any disease.