Quick Links to Our Prices
How does this work and how do stores get listed? See our disclosure below to learn more. Price History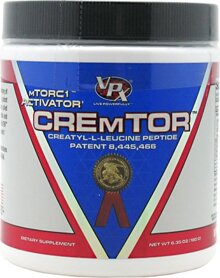 VPX CREmTOR
Activate Muscle Building mTOR*
Reduce Fatigue and Enhance Performance & Recovery*
Contains Patented mTORC1 Peptide(s)*
Pack on Lean Mass and Increase Strength*
---
The Future in Creatine Science
VPX CREmTOR (pronounced kree – em – tohr) , represents the future in creatine science! You're probably wondering, "What on Earth is mTOR"? Simply put, mTOR not only increases protein synthesis, but also increases your body's capacity for even greater protein synthesis. Protein synthesis means making new muscle proteins. This is the process of repairing and building bigger muscles! With the potent trifecta of creatine monohydrate, patent-pending L-Leucyl-L-Isoleucine, and our patented creatine peptide called mTORC1 [a Covalently bonded Creatine/Leucine peptide], you'll be packing on lean mass fast!*
What Is mTORC1?
Recently, The United States Patent and Trademark Office (USPTO) granted VPX United States Patent number 8,372,821 for Bio-Active Aqueous Stable Creatine Species, more commonly known as mTORC1. In this invention, creatine is linked to an amino acid or peptide forming a powerful covalent bond. These creatine di-peptides can be hydrolyzed to release creatine and amino acids in the body once they have been consumed. Chemically, these creatine di-peptides have an amide bond, which is very stable in normal conditions. However, when these di-peptides are ingested, the gastric fluids in the stomach (which are highly acidic with pH levels between 1.5 to 3.5) can break down the amide bond, and then the free creatine and amino acid are released.*
mTORC1 Creatine Peptides are not only are more water soluble, but also stable in water at room temperature, and they're even fairly stable for many months at over 103°F! This means athletes can finally enjoy a potent, stable creatine in their favorite pre-, intra, and/or post-workout RTD.*