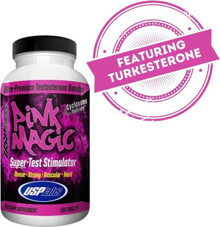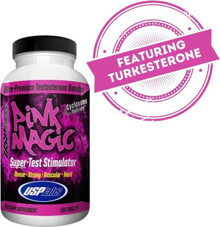 Many people are suspicious about USP Labs Pink Magic because of its simple innocent look. This features a series of pink pills that must be used throughout the day. This includes two of these pink capsules three times a day along with food and before a workout can begin.

The thing that people who are suspicious about USP Labs Pink Magic don't know is that it is an incredibly effective product. The benefits that come with using USP Labs Pink Magic work in many forms to help improve the body's ability to handle more functions. This is thanks to how it works with one of the most important enzymes that the body needs for the best possible workouts.

First, USP Labs Pink Magic Stack works by improving the strength gains that a person can get in a workout. A key part of this comes from how USP Labs Pink Magic works to increase cyclic adenosine monophostphae, or AMP, levels in the body. This is a type of enzyme that works to assist in the breakdown of fats. This is needed to improve the body's natural ability to gain muscle and to keep fats from being an issue while gaining muscles.

It is also easier to get strength through the improved protein balance that comes from using USP Labs Pink Magic. The supplement will increase AMP levels in skeletal muscles, thus helping to create a balance of proteins in these deeper parts of the body. This is needed to encourage a gain in muscle mass. This may work to not only give the body more strength but to also support the density and hardness of muscles.

Another reason why the USP Labs Pink Magic supplement is popular is because it is made to support the body's energy levels. It works to improve the recovery process and to keep the body from feeling worn out. The ingredients work as natural stimulants. In fact, the increase will help to keep fatigue from being an issue.


More About USP Labs Pink Magic
The ability to use USP Labs Pink Magic without too many difficult instructions is also a great benefit. This supplement will work by taking two capsules three times in a day. It can also work with two capsules about half an hour before a workout for the best results. The plan for using this involves using it for six days and then being off from it for one day. This is an easy to handle schedule that will keep the medication working properly.

These features are points that show just why this supplement is such a necessity for any workout needs. No one should be fooled by the innocent pink appearance of this supplement. USP Labs Pink Magic is something that will truly help to keep the muscles working well and to give anyone an easier time with gaining muscles and staying active.