Quick Links to Best Prices Price History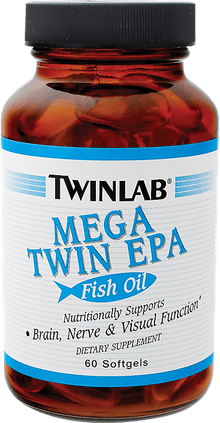 Twinlab Mega Twin EPA Fish Oil
Most people in the U.S. consume too few Omega-3 fatty acids
. An excellent way to supplement these essential fatty acids is Twinlab's Mega Twin EPA. It has a blend of fish oils that are concentrated to supply EPA and DHA-Omega-3 fatty acids that are beneficial in supporting many bodily functions. Omega-3's help to maintain cholesterol levels that are already within the normal range. Omega-3's also help support brain, nerve and visual ability. Clinical studies have shown that a diet that has at least 400 mg of Omega-3 fatty acids (300 mg of which are EPA and DHA) supports cardiovascular health. Also, a recent study has shown that a diet with 768.8 mg of EPA nutritionally supports healthy joint function. For overall health and wellness, make Twinlab's Mega Twin EPA fish oil a part of your daily health regimen.
Brain, Nerve & Visual Function
Healthy Skin
Cardiovascular Health
Healthy Joint Function
Supplement Facts:
Serving Size: 1 Softgel
Serving Per Container: 60
Amount Per Serving:
Calories 10
Calories from Fat 10
Total Fat 1 g 2%
Saturated Fat 0 g 0%
Trans Fat 0 g
Cholesterol 12 mg 4%
Vitamin E 19 IU 63%
EPA (eicosapentaenoic acid) 550 mg
DHA (docosahexaenoic acid) 215 mg
Other Ingredients: Purified Fish Oil, Gelatin, Glycerin, Purified Water, d-Alpha Tocopherol.
This product has been processed and tested to be free of PCB and heavy metals.
Suggested Use: Take one to three softgels with any meal or as directed by a physician or health care professional.
Disclaimer: Manufacturers continually change product specifications. While we try our best to keep product descriptions up to date, they do not necessarily reflect the latest information available from the manufacturer. We are not responsible for incorrect or outdated product descriptions and/or images.
These statements have not been evaluated by the Food and Drug Administration. This product is not intended to diagnose, treat, cure, or prevent any disease.