Quick Links to Our Prices Price History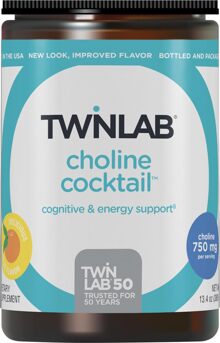 Twinlab Choline Cocktail™ Energy Drink
contians a state-of-the-art mixture of choline synergistically combined with DMAE, Ginkgo Biloba Extract, vitamins, minerals, antioxidants and herbs. Also, Choline Cocktail™ now contains fructose (a natural sweetener).
What Does Choline Do?
Much like tyrosine, dietary choline is an effective neurotransmitter precursor.* However choline is responsible for the production of another neurotransmitter, acetylcholine.* Acetylcholine is released in the brain and at the neuromuscular junction and is responsible for many physiologically important events.
In trained endurance athletes, plasma choline concentrations can be reduced by up to 40% during training or competition. These reductions in blood choline could lead to a reduction in acetylcholine synthesis (as indicated above) and therefore focus, memory, and performance. Choline supplementation can replenish these reduced blood choline concentrations.*
Due to its effects on brain acetylcholine levels, choline supplementation can promote memory capacity in healthy humans and rats.* Furthermore, choline, in conjunction with supplements that prolong the effects of acetylcholine at the neuromuscular junction, may support neuromuscular transmission.* Since dietary lecithin can promote plasma choline concentrations and is better tolerated than choline, it is best to supplement with lecithin rather than choline itself.*