Quick Links to Best Prices Price History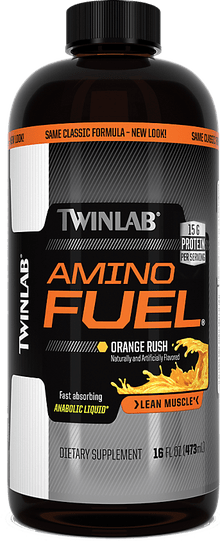 Twinlab Amino Fuel Liquid
Anabolic Liquid
Twinlab Amino Fuel Liquid – 15g per serving of protein from amino acids!
Naturally Flavored and Sweetened
No Paraben Preservatives Added
It's protein in its most usable, easily digested form to maximize muscle growth and optimize protein synthesis. Includes fast absorbing, high quality branched-chain, peptide-bonded and free amino acids.*
How It Works:
Twinlab Amino Fuel Liquid is a fast absorbing, fast acting, easily digested liquid concentrate supplying L-carnitine, branched chain amino acids (L-leucine, L-isoleucine and L-valine) and pharmaceutical grade, peptide bonded and free amino acids. Plus stress B-complex vitamins, lipotropic factors choline and inositol and a complete source of energizing complex carbohydrates (glucose polymers) and pure crystalline fructose.
Every serving offers a concentrated 15 grams of high quality peptide bonded and free amino acids originating from the natural pancreatic digests of whey protein (lactalbumin), egg protein (albumin), liver protein and other animal proteins. One serving is equivalent to 15 one-gram peptide bonded amino acid tablets or capsules.
Amino Fuel Liquid provides protein in its most easily digested, absorbable and utilizable form to maximize muscle growth and optimize protein synthesis.*
Research shows that when taken orally, peptide-bonded amino acids increase Nitrogen retention better than free form amino acid mixtures for optimum muscle growth.*
Amino Fuel Liquid is naturally flavored and sweetened; no paraben preservatives added.