Warning: This product is not currently available at any store.
Click the button above and PricePlow will email you when the first store has it in stock!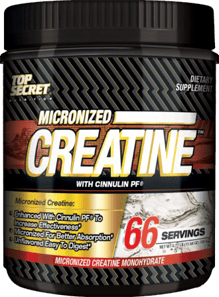 Top Secret Nutrition Micronized Creatine
Micronized Creatine with Cinnulin PF
Micronized Creatine with Cinnulin PF is a blend of 200 mesh creatine monohydrate with Cinnulin PF to improve effectiveness.*
Enhanced with Cinnulin PF to Increase Effectiveness
Micronized (200 Mesh) for Better Absorption
Unflavored Easy to Digest
Creatine
You are probably already familiar with creatine, but there is more to the story than you may know. Creatine is an acid that is produced in the liver and made from three amino acids: arginine, glycine, and methionine. It supplies energy to muscle cells and helps recycle ATP energy. When ATP energy is spent, it becomes ADP; then creatine phosphate converts ADP back into ATP, and cycle continues. This process has many advantages, including increased muscular contraction time that allows you to work out harder before experiencing muscle failure. This system provides about 4-30 seconds of muscle energy before it needs to be replenished. Research suggests that creatine supplementation may promote anaerobic ATP synthesis for fast twitch type II muscle fibers.*1-4
Additional studies on creatine suggest that it may increase muscle strength, endurance, and recovery. According to the University of Maryland, studies suggest that creatine supplements supports both strength and lean muscle mass during short, high-intensity exercises such as weightlifting. Additional benefits include:*
The Promotion of Lean Muscle Tissue*
Increased Muscle Cell Volume*
Faster Post-Workout Recovery*
Increased Glycogen Synthesis*
Increased High-Intensity Muscle Performance*
Cinnulin PF
A proprietary 100% water soluble extract of Cinnamomum burmannii, Cinnulin PF is the only extract standardized for doubly linked Type-A Polymers, specifically tetramers and trimers, which are suggested by clinical research to have a host of health-supporting benefits. Cinnulin PF has been observed to mimic the effects of insulin, thereby supporting glucose uptake and insulin signaling, already in healthy range. In a recent study, 83% of those given the active Type-A Polymers supported statistically lower body fat and promoted lean body mass.*5,6
The benefits of Cinnulin PF when combined with creatine and exercise include:
Increased Lean Mass*
Increased Muscle Strength*
References
"Creatine Supplementation Enhances Anaerobic ATP Synthesis During a Single 10 sec Maximal Handgrip Exercise." Mol Cell Biochem. 244.1-2 (2003): 105-12.
"Effect of Creatine Supplementation on Aerobic Performance and Anaerobic Capacity in Elite Rowers in the Course of Endurance Training." Int J Sport Nutr Exerc Metab. 13.2 (2003): 173-83.
"Effects of Creatine on Isometric Bench-press Performance in Resistance-trained Humans." Med Sci Sports Exerc. 34.7 (2002): 1176-83.
"Creatine Supplementation Supports Muscle Force Recovery After Eccentrically-induced Muscle Damage in Healthy Individuals." Journal of the International Society of Sports Nutrition, 6:13 (2009).
"Effects of a Water-Soluble Cinnamon Extract on Body Composition. " Journal of the International Society of Sports Nutrition 3 (2006): 45-53 doi:10.1186/1550-2783-3-2-45.
The Effects of a Creatine Supplement Formulation Containing Cinnamon Extract on Creatine Uptake, Creatine Transporter Expression, Insulin Signaling, and Muscle Performance in Males, Ryan Schoch, Baylor University 2006.