Warning: This product is not currently available at any store.
Click the button above and PricePlow will email you when the first store has it in stock!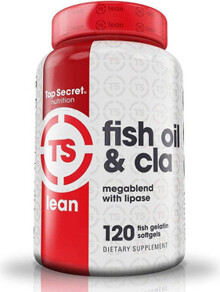 Top Secret Nutrition Fish Oil & CLA
Fish Oil & CLA with Lipase
Synergistic Blend of Omega 3 and CLA
Supports Lean Muscle Development*
Supports Fat Loss*
Lipase Added for Absorption*
Unique Combination
Top Secret Nutrition's Fish Oil & CLA with Lipase takes the unique health benefits of each of these two oils to an entirely new level.
About the Megablend
Fish Oil
Fish oil contains both docosahexaenoic acid (DHA) and eicosapentaenoic acid (EPA) omega-3 fatty acids. Omega-3 fatty acids are considered essential fatty acids: They are necessary for human health but the body can't make them.
Recommended amounts of DHA and EPA help support overall health. Omega-3 fatty acids may inhibit an enzyme called cyclooxygenase (COX), which produces the prostaglandin hormones that are associated with swelling and mild discomfort.*
CLA
Conjugated linoleic acid (CLA) is a linoleic acid found primarily in meat and dairy products. CLA has been suggested by a number of studies to have a wide variety of health-supporting benefits. One such benefit is with weight loss and body fat composition. CLA may also support lean body mass in healthy individuals!*
Lipase
Lipase is an enzyme that the body uses to break down fats so they can be absorbed in the intestines. Lipase is used in the body to increase absorption and improve digestion of fatty acids.*
Fats require special digestive action before absorption because the end products must be carried in a water medium (blood and lymph) in which fats are not soluble. Lipase is the primary digestant used to split fats into fatty acids and glycerol.*