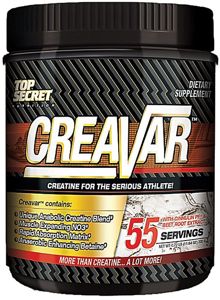 Top Secret Nutrition Creavar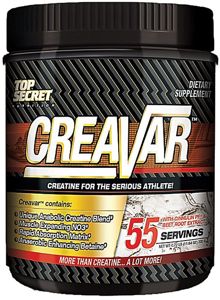 Top Secret Nutrition Creavar
More than a Creatine... A Lot More
Why do you take creatine? If you're like most athletes, you take creatine to promote increased:
Strength*
Energy*
Power*
Recovery*
Pump*
Growth*
It's up to you to decide if this is worth it when plain old creatine monohydrate is so cheap, but at the end of the day, this is something different with creatine -- the supporting cast ingredients do have benefits that you're likely not getting in through the rest of your diet or supplement regime.
Muscle Supplementation for the Serious Athlete
Muscle Expanding NO3*
Unique Anabolic Creatine Blend*
We have taken the power of creatine and expanded it! Introducing Creavar: The Evolution of Muscle Supplementation.
The Basics
What Does Creatine Do?
You are probably already familiar with creatine, but there is more to the story than you may know. Creatine is an acid that is produced in the liver and made from three amino acids: arginine, glycine, and methionine. It supplies energy to muscle cells and helps recycle ATP energy. When ATP energy is spent, it becomes ADP; then creatine phosphate converts ADP back into ATP, and the cycle continues. This process has many advantages, including increased muscular contraction time that allows you to work out harder before experiencing muscle failure. This system provides about 4-30 seconds of muscle energy before it needs to be replenished. Research suggests that creatine supplementation may enhance anaerobic ATP synthesis for fast twitch type II muscle fibers.1-4 Additional studies on creatine suggest that it may increase muscle strength, endurance, and recovery. According to the University of Maryland, studies have shown that creatine supplements improve both strength and lean muscle mass during short, high-intensity exercises such as weightlifting.*
Additional Benefits Include:
The Promotion of Lean Muscle Tissue*
Increased Muscle Cell Volume*
Faster Post-Workout Recovery*
Increased Glycogen Synthesis*
Increased High-Intensity Muscle Performance*
We took the basics of what creatine does for the body and enhanced it by surrounding it with several muscle strength, support, and growth facilitators.*
What is in Creavar?
We Start With a Creatine Tri-Blend
Creapure
Creapure is pure, high-quality creatine (monohydrate) manufactured by AlzChem AG. This creatine is known around the world for its high quality and purity, which is due to the careful selection of raw materials and the technologically advanced, patented system for synthesizing creatine.
Creatine MagnaPower
Scientific research proves that magnesium and creatine have beneficial effects of various aspects of physiological activity. The roles of both substances are closely correlated and alternate together in many specific reactions. This fact led Albion Advanced Nutrition researchers (manufacturers of Creatine MagnaPower) to consider the combination of magnesium and creatine in one compound, an idea that is both logical and innovative. Creatine MagnaPower is a proprietary, patented product of creatine bound to magnesium.*
A study conducted by the Exercise and Sport Sciences Laboratory at Western Washington University in Bellingham, Washington suggests that the added benefits of magnesium with creatine include:5
Enhanced ATP*
Increased Cellular Hydration (Swelling)*
Increased Cellular Creatine*
Increased Protein Synthesis*
Increased Muscle Performance*
Creatine AAB 2:1
Creatine AAB 2:1 is a patented blend of creatine monohydrate plus alpha amino n-butyrate, a metabolite of the amino acid leucine. This can help to increase muscle protein synthesis and decrease muscle breakdown. To understand the benefits of this very unique creatine, we need to look at branched-chain amino acids, and in particular, leucine. Studies confirm that leucine has anti-catabolic and protein synthesis stimulating properties. In essence, leucine is good for muscle growth. According to a study by Layman, after exercise, muscle protein synthesis required dietary intake of protein or branched-chain amino acides. During exercise, the demand for leucine goes up to help increase protein synthesis.6 This is where alpha amino butyrate comes in. Because AAB is similar to leucine, it is suggested that AAB will promote protein synthesis in the even that leucine levels are low. In an additional study done by Constantoulakis, it was suggested that AAB may increase the oxygen carrying capacity of blood, thus enabling greater protein synthesis to occur.7
The Benefits of Patented Creatine AAB 2:1 Include:
Increase Protein Synthesis*
Increased Muscle Endurance*
The "Booster" Team
Red Beet Extract
Red beet root is naturally high in nitrates (NO3) which are believed to improve athletic performance. A study led by the University of Exeter, published in 2009 in the Journal of Applied Physiology, pointed to the benefits of NO3, concluding that they boost a cyclist's endurance. Nitrates are helpful to athletes because they quickly bring oxygen to muscles, essentially making the more difficult efforts easier. Additionally, Bailey et al. (2009) found that beet root supplementation can reduce the O2 cost of exercise, suggesting that beet root supplementation allows for high-intensity exercise to be tolerate for an extended period of time.8 In a later study, Bailey et al. (2011) found that acute dietary nitrate supplementation with beet root improves cycling economy, as demonstrated by a higher power outpout (PO) for the same rate of oxygen consumption (VO2), and enhances both 4- and 16.1-km cycling time trial performance.9
Researches theorize that the reason for improved athletic performance is due to an increase in nitric oxide production via a different pathway than the traditional l-arginine oxide pathway. This is called the nitrate nitrite nitric oxide pathway, and it kicks in when oxygen levels are low, like when we are exercising.8 Red beet nitrates (NO3) are converted to nitrites (NO2) and the Nitrites (NO2) are converted to Nitric Oxide (NO).*
The Benefits of Red Beet Extract Include:
Increased Nitric Oxide*
Increased Muscle Cell Volume*
Increased Muscle Endurance*
Cinnulin PF
A proprietary water soluble extract of Cinnamomum burmannii, Cinnulin PF is the only extract standardized for doubly linked Type-A Polymers, specifically tetramers and trimers, which are shown in clinical research to have a host of health benefits. Cinnulin PF has been observed to mimic the effects of insulin, thereby up-regulating glucose uptake and insulin signaling. In a recent study, 83% of those given the active Type-A Polymers showed statistically lower body fat and enhanced lean body mass.10,11
The Benefits of Cinnulin PF when Combined with Creatine and Exercise Include:
Increased Lean Mass*
Increased Muscle Strength*
Betaine HCl
Betained is also highly synergistic when taken with creatine. In a study published by the Journal of the International Society of Sports Nutrition in 2010, it was stated that after 14 weeks of betaine supplementation, the study gorup increased power and force in selected performance measures such as: bench press, vertical press, and squat. In another study it was suggested betaine supplementation may improve exercise performance and muscle oxygen saturation.12,13
The Benefits of Betaine Include:
Increased Muscle Cell Volume*
Increased Endurance*
Increased Muscle Strength*
Astravar 2.0
Astravar 2.0 contains Astragin, Rhodiola rosea, BioPerine and the aforementioned red beet extract. Astragin is an all-natural, plant-derived compound that is extracted from highly fractionate Panax notoginseng and Astragalus membranaceus. Research suggests that Astragin may improve the absorption of various nutrients at the cellular level.14
Rhodiola rosea belongs to Crassulaceae family of flowering plants that grow throughout the mountainous regions in the higher latitudes and elevations of the Northern hemisphere. Research has suggested that Rhodiola rosea can increase endurance and time to exhaustion.15
BioPerine is standardized extract from the fruit of Piper nigrum L (black pepper) or Piper longum L (long pepper). BioPerine is used to help other nutrients become better absorbed into the blood stream.*
Benefits of Astravar 2.0 Include:
Boost in Nitric Oxide via Two Pathways: NO2 and NO3*
Improved Absorption of Performance Enhancing Elements*
Increased Endurance*
Elevated Energy Levels*
If you are serious about your training, get serious about your supplements!
Creavar Frequently Asked Questions
Do I need to load Creavar?
No, Creavar does not need a loading phase.
Should I take Creavar pre or post workout?
You can take it before and/or after your workouts. The benefits of Creavar effect both pre and post.*
References
"Creatine Supplementation Enhances Anaerobic ATP Synthesis During a Single 10 sec Maximal Handgrip Exercise." Mol Cell Biochem. 244. 1-2 (2003): 105-12.
"Effect of Creatine Supplementation on Aerobic Performance and Anaerobic Capacity in Elite Rowers in the Course of Endurance Training." Int J Sport Nutr Exerc Metab. 13.2 (2003): 173-83.
"Effects of Creatine on Isometric Bench-press Performance in Resistance-trained Humans." Med Sci Sports Exerc. 34.7 (2002): 1176-83.
"Creatine Supplementation Enhances Muscle Force Recovery After Eccentrically-induced Muscle Damage in Healthy Individuals." Journal of the International Society of Sports Nutrition, 6:13 (2009).
Magnesium-creatine supplementation effects on body water. Metabolism. 2003 Sep;52(9):1136-40.
Leucine regulates translation initiation of protein synthesis in skeletal muscle after exercise. Norton LE, Layman DK. J Nutr. 2006 Feb;136(2):533S-537S.
Sodium butyrate enhances fetal globin gene expression in erythroid progenitors of patients with Hb SS and beta thalassmia. Blood. 1989 Jul;74(1):454-9.
Dietary nitrate supplementation reduces the O2 cost of low-intensity exercise and enhances tolerance to high-intensity exercise in humans J Appl Physiol 107 (2009): 1144-1155.
Lansley, K.E., et al. "Acute Dietary Nitrate Supplementation Improves Cycling Time Trial Performance." Med Sci Sports Exerc. 43.6 (2011): 1125-31.
Effects of a Water-Soluble Cinnamon Extract on Body Composition and Features of the Metabolic Syndrome in Pre-Diabetic Men and Women." Journal of the International Society of Sports Nutrition 3 (2006): 45-53 doi:10.1186/1550-2783-3-2-45.
The Effects of a Creatine Supplement Formulation Containing Cinnamon Extract on Creatine Uptake, Creatine Transporter Expression, Insulin Signaling, and Muscle Performance in Males, Ryan Schoch, Baylor University 2006.
Ergogenic effects of betaine supplementation on strength and power performance. J Int Soc Sports Nutr. 2010 Jul 19;7:27.
The effects of chronic betaine supplementation on exercise performance, skeletal muscle saturation and associated biochemical parameters in resistance trained men. J Strength Cond Res. 2011 Dec;24(12):3461-71.
Tsuchung Chang, Wen-liang Chang, and m Shu-fun Huang. "A Clinically Validated Natural Ingredient that Transports Significantly Greater Amount of Nutrients in Blood Stream into Cells for Truly Improved Bioavailability." Nuliv Science.
"Acute Rhodiola rosea Intake Can Improve Endurance Exercise Performance." Int J Sport Nutr Exerc Metab. 14.3 (2004): 298-307.