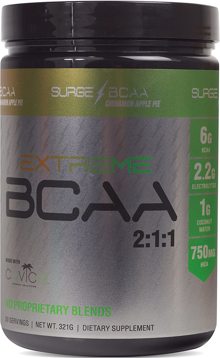 Surge Supplements Surge Extreme BCAA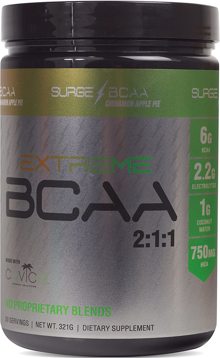 Surge Supplements Surge Extreme BCAA
Prevents muscle break down while promoting muscle growth, muscle retention, and increasing your level of intensity during a workout

BCAA are the branch chain amino acids that are responsible for building new lean muscle. They include leucine, isoleucine & valine

Isoleucine is used for increasing glucose uptake into cells, while leucine is used to improve muscle protein synthesis. Surge Extreme BCAA is giving you the ultimate HYDRATION with 750 mg of Electrolytes and 75omg of Covico Coconut Water Powder

BCAA supplementation for people with low dietary protein intake can promote muscle protein synthesis and increase muscle growth over time. It can also be used to prevent fatigue in novice athletes.

Surge cares about your results, health, and overall success. Surge creates supplements that exceed expectations and raise fitness goals. Surge is committed to producing only the highest quality products through cutting edge fitness innovation.
More