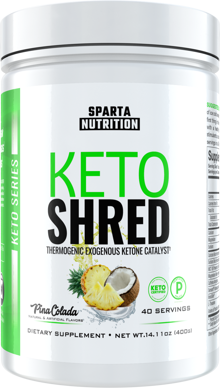 Sparta Nutrition Keto Shred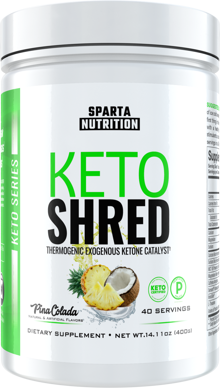 Sparta Nutrition Keto Shred
Last week we introduced you to the new Keto Series of supplements that Sparta Nutrition debuted, in the form of the brand's new keto-approved coffee creamer, Sparta Nutrition Keto Coffee, which will pack an onslaught of MCTs to power your mind and muscles first thing in the morning, rather than brain-stopping sugar-based creamers.
So far so good, so next, we look at the next member of the Sparta Keto Series in Keto Shred, a ketogenic-diet-friendly fat burning drink powder that helps you get extra lean, give you energy, and keep you satisfied when you're cutting the carbs.
When it comes to the keto diet, nearly any thermogenic fat burner pill will have some benefits, but they lack the BHB salts that may provide some energy. Meanwhile, most fat burning powders don't do anything special for keto dieters either, and some contain trace carbs that we're trying to avoid here!
Keto Shred Ingredients
Keto Shred includes a combination of proven fat burning, energy boosting compounds alongside a duo of keto-specific compounds that help you stay on the keto path even when you're tempted to pound back the carbs while dieting.
Note: Doses listed below are based on one full serving (i.e. two scoops). Given that Keto Shred is a 40/20 serving product, a full serving is classified as two scoops, which is why we're listing those doses.
BHB Salts

The key to any keto-specific supplement is BHB (beta-hydroxybutyrate) salts. BHB is the primary ketone body that the body produces once it starts burning fats for fuel -- it goes through the process of ketogenesis that ultimately creates BHB (and a couple other molecules), which your mitochondria then use for energy when there's no glucose around.

It turns out that you can take exogenous ketones in a supplement too, and they'll boost the amount available in your bloodstream, boosting energy available to you.

These compounds help with the transition from carb-burning to fat burning. As an exogenous form of ketones used by the body when you're living the no-carb (+ moderate protein) lifestyle, they can even help you from bouncing out of ketosis during your transition[1,2] or even when you accidentally take too many carbs or protein! On top of it, consuming BHB's may also help lower anxiety too.[3]

In terms of actual weight loss, realize that these do provide calories, and are energy to be burnt, but it's minimal (estimations are somewhere from 4.5 to 5.5 calories per gram). The benefit is that we're seeing some lowering of blood glucose levels when they're used, and ultimately may be beneficial to dieters, especially those who aren't deep into the zone.

Sparta Nutrition has included the three well known BHB salts in the form of:

Calcium BHB (5.5g)
Sodium BHB (4g)
Magnesium BHB (2.5g)

Together these three should give your body some "juice" to run on when you're no longer throwing down the carbs morning, noon, and night - but again, do realize that despite the label, they do provide minimal calories.

Below, we discuss some other critical benefits of these BHB salts, but they're geared towards overall well-being and not burning fat, so let's move on to the rest of Keto Shred and get to the bonus benefits later.

MCT Oil Powder (3g)

Another bigtime keto ingredient is Medium-Chain Triglyceride (MCT) oil. It's naturally found in dairy products, palm oil, and coconut oil, but there's also a bunch of other saturated fats with it as well. Here, Sparta Nutrition has include only the "good" stuff in that their MCT oil powder is standardized to 50% Caprylic Acid.

The "buzz" to MCTs in general is that they bypass the liver and are immediately taken up and used for energy by the body, similar to how fast-acting carbs provide immediate energy.[4] MCTs also offer antibacterial, antiviral, antifungal and anti-inflammatory benefits,[5,6] making them a valuable ingredient for any individual, not just the keto crowd.

MCTs boost blood ketone levels while not boosting blood sugar levels, which means better energy for keto dieters. But realize, these too provide calories (roughly 8.7 calories per gram).

Caffeine Anhydrous (175mg)

Like all good fat burners, Keto Shred includes a moderate dose of caffeine. If you've ever dieted before, even in your carb-crushing days, you know that dieting brings with it a considerable drop in energy, focus, and motivation. Well, here's your liquid motivation folks.

175mg caffeine anhydrous (per 2 scoops) is more than enough to get you going in the morning and have you on your game, no matter how many carbs or calories you cut. Aside from the energy boost, caffeine also helps reduce appetite, increase metabolism, and reduce insulin sensitivity.[17,18,19]

Sensoril® Ashwagandha (125mg)

Ashwagandha is one of the most popular, and frequently supplemented, ingredients for alleviate stress and anxiety. The herb is a potent adaptogen that improves the body and mind's response to all manner of stressors in the world.

Sensoril is one of the two leading forms of ashwagandha extract on the market (KSM-66 being the other). Sensoril is standardized for 8% Withanolides and has a battery of studies showing it reduces stress, improves cognitive performance, and combat endothelial dysfunction.[7,8,9]

InnoSlim® (125mg)

Developed by NuLiv Science, InnoSlim® is a patented, proprietary extract combining Panax notoginseng and Astragalus membranaceus. Research on the stimulant-free compound demonstrates it activates the adiponectin enzyme, leading to better glucose metabolism regulation and fatty acid oxidation, allowing for better fat loss.[10,11,12]

L-Theanine (100mg)

To help smooth the hit of th 175mg of caffeine comes the "energy-taming" amino acid L-Theanine. Found in tea leaves, theanine reduces the harsh hit of caffeine by promoting a more relaxed, controlled focus. The two work together to enhance cognitive function and help take the "edge" off the rush of stimulants, avoiding any anxiety that might spring up when taking larger doses of caffeine.[13,14]

Grains of Paradise (50mg)

One of our favorite non-stim fat burning ingredients is Grains of Paradise. We've talked about it at great length before in our mega-post: Grains of Paradise: Fat Fighting Spice of the Goddesses.

Grains of Paradise is a pungent spice that helps "brown" white fat. The extract has been shown to activates this brown fat, thereby increasing thermogenesis and leading to greater energy expenditure and weight loss.[15,16]

Keto Shred uses the "good stuff" by incorporating an extract standardized to 12.5% 6-paradol, which is the form used in the studies showing the ingredient's fat burning benefits.
Overall this is more of a very user-friendly keto supplement that will make a keto dieter feel a whole lot better, and burn a bit of extra fat, but without any "over-the-top" stimulants that we see in some other fat burners -- very good for your average new keto dieter!
The additional benefits of the BHB Salts (the electrolytes!)
One of the understated benefits of the BHB salts actually come from the
electrolytes
they're bound to. Keto dieters are notoriously low in magnesium, and often need to supplement - much of which helps here. Meanwhile, additional sodium is always very helpful since the body excretes a lot of sodium when it's transitioning towards fat adaptation.
"Keto Flu" Killer?
Many keto dieters experience the "keto flu", which they chalk up to lack of carbs and getting transitioned into ketosis. However, we sometimes believe that many of the symptoms of this keto flu are really just the lack of electrolytes, which is why it's great to get these in.
Ultimately, a serving of Keto Shred will give you the following amounts:
Calcium: 800mg (80% DV)
Magnesium: 225mg (56% DV)
Sodium: 680mg (28% DV)
As a keto dieter, you definitely want the help there, but it's important to track your calories, macronutrients, micronutrients, and minerals - and include this in that tally.
---
Flavors Available
Similar to Keto Coffee, Sparta Nutrition is launching Keto Shred in only one flavor -- Pina Colada. As the line grows and gains traction, additional flavors will be rolled out in the coming months.
---
Takeaway
Going on a ketogenic diet is an automatic weight loss diet for most folks, as it cuts a lot of the "garbage" out of their diet, and the reversal of all that blood sugar circulating is often seen nearly immediately.
But sometimes, you'd like that excess weight to come off just a bit faster, and that's where a targeted keto fat loss supplement like Keto Shred comes in handy. Meanwhile, unless your diet is absolutely on point, you're going to need some help here and there throughout the day - especially in the form of the electrolytes, a bit more BHB for sluggish moments, and of course caffeine, which is thermogenic in its own right!
Keto Shred includes ingredients that help burn fat faster while avoiding the ones that could potentially kick you out of ketosis - and it doesn't have any amino acids that boost blood sugar levels by inducing gluconeogenesis like some of the other products out there.
At worst, this is an extremely enjoyable energy drink formula for keto dieters. But at best, you're going to feel the burn and feel good to boot. We'll be testing it for sure, so stay tuned to our YouTube channel and sign up for Sparta Nutrition alerts because they still have more coming!
---