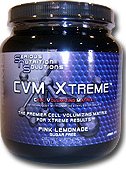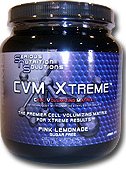 New CVM Xtreme by SNS blends the right ingredients in the right ratios for increased muscle pumps and vascularity. CVM Xtreme at psupplements.com represents the beginning of an era of creatine and cell volumizing matrix supplementation in which the fancy words and outlandish claims stop and real results begin.

Supplement Facts:

Serving Size: 1 Scoop (~15 Grams)
Servings Per Container: 50

Amount Per Serving:

Calories 0
Calories from Fat 0
Carbohydrates 0
Sugars

CVM (Cell Volumizing Matrix):

Dicreatine Malate 4g
Betaine Anhydrous 2g
Taurine 2g
2:1 DiArginine Malate 1.5g
Glucuronalactone 1g
Glycocymine 500mg
Vitamin B6 (Pyridoxine) 100mg
Vitamin B3 (Niacin) 50mg
Folic Acid 200mcg
Vitamin B12 (Cyanocobalamin) 125mcg

Other Ingredients: Microcrystalline cellulose, flavoring, stevia, and artificial color.

Actual weight for individual flavors:

Orange: 715.5 Grams
Grape: 763.02 Grams
Fruit Punch: 728.02 Grams

Directions: Mix one level scoop with 6 to 20 ounces of water or your favorite beverage. Use CVM Xtreme everyday, including non-workout days. For maximum results, use one serving 30 minutes prior to working out and another serving spaced out 8 to 12 hours apart. On non workout days use one serving in the morning and one serving at night, spaced out 8 to 12 hours apart, preferably 30 minutes before meals.