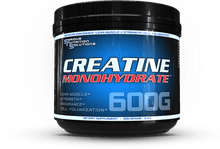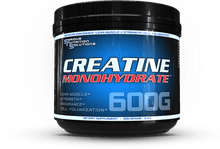 While Supplies Last!
Improved Endurance, Lean Muscle & Strength!
Serious Nutrition Solutions Creatine Monohydrate powder comes in 600 gram and 1200 gram (1.2 kg) sizes (120 or 240 servings per container). No fillers, no additives, just pure HPLC tested Creatine Monohydrate.


Creatine Monohydrate has been shown to significantly increase lean muscle and strength in as little as two weeks, while also helping endurance, recovery, cell volumization, and improved recovery between sets when working out. This nutrient is one of, if not the most researched sports nutrition supplement on the market, and has been proven safe and effective by numerous studies. It has been the best selling and most popular bodybuilding supplement on the market for a number of years, and is a staple of most bodybuilders and athletes supplement regimens.
---
Creatine Monohydrate is Commonly Used For
Increases in Lean Muscle & Strength
Increased Cell Volumization
Improved Endurance
Improved Recovery
Improved Energy During & Recovery Between Sets While Training
Helping Maintain Lean Muscle While Dieting
---
Frequently Asked Questions About Creatine Monohydrate:
Is it necessary to load with Creatine Monohydrate?
There are two schools of thought on this subject. While it is not "necessary", most people do find it desirable to do so because they generally experience quicker results in a shorter period of time. A lot of the studies done on Creatine Monohydrate were done with people loading. Loading helps users saturate their muscles with Creatine, so can essentially deliver results quicker than waiting a longer period to reach this saturation level. Serious Nutrition Solutions product directions walk you through how to load with Creatine Monohydrate.

Should Creatine Monohydrate be cycled?
There have been studies that support creatine cycling and others that do not. Some people use Creatine Monohydrate consistently without cycling; some use Creatine Monohydrate consistently but reload once every six weeks; and others load and then use Creatine Monohydrate for 4 to 6 weeks, then take a few weeks off and repeat.

Do I need to take Creatine Monohydrate with simple sugars to aid with the absorption?
That really depends on your desired results. Creatine Monohydrate has been shown to deliver excellent results in numerous studies, whether taken with simple sugars or not. If you are bulking and the simple sugars won"t interfere with your desired results, then they may help improve absorption for extra results, but if you are looking to lose body-fat, then simple sugars may not have a place in your diet to begin with. For people that do choose to take Creatine Monohydrate with simple sugars, grape juice is generally regarded as a good option.

Will Creatine Monohydrate bloat me/make me hold fluid weight?
Due to the way it works, Creatine Monohydrate can cause fluid retention in some users. Water retention is usually mild and moderate, with many users not experiencing it at all. It is important to note that creatine monohydrate has no caloric value, so it doesn"t cause any fat storage.

What is the advantage of Creatine Monohydrate powder over Creatine Monohydrate pills?
Very simple answer. Creatine is typically loaded at 20 to 30 grams per day, and used at maintenance at 5 to 10 grams per day. Most Creatine Monohydrate pills contain 500 to 1000 mg of Creatine Monohydrate per pill, so that would be between 20 and 60 pills per day to load, and between 5 and 20 pills per day while on maintenance. Combine that with powder being less expensive and the answer is obvious.

Can I use Creatine Monohydrate while trying to lose fat?
Yes, you can and it can even be beneficial to use Creatine Monohydrate while trying to lose body-fat. Creatine Monohydrate has no caloric value, so it does not contribute to fat storage, and it can be beneficial for helping to gain & maintain lean muscle and strength while dieting.

In closing, Serious Nutrition Solutions Creatine Monohydrate powder allows users to incorporate top quality HPLC tested Creatine Monohydrate into their supplement regimens at cost effective prices. It can be stacked Focus XT, Beta Alanine capsules, VasoForce XT, or other select Serious Nutrition Solutions products for increased synergistic results.
Note: Manufacturers continually change product specifications. While we try our best to keep product descriptions up to date, they do not necessarily reflect the latest information available from the manufacturer. We are not responsible for incorrect or outdated product descriptions and/or images.