Warning: This product is not currently available at any store.
Click the button above and PricePlow will email you when the first store has it in stock!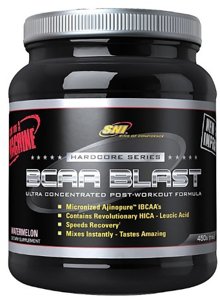 What Are IBCAA's?
Ajinopure™ IBCAA's are Instantized Branched Chain Amino Acids in a 2:1:1 ratio of L-leucine, L-isoleucine and L-valine. Unlike regular BCAA's, Ajinopure IBCAA's have been manufactured by Ajinomoto and are recognized as the purest, best tasting, and most water soluble BCAA's available in the world.
What Else Does BCAA Blast™ Contain?
BCAA Blast™ contains Magnesium Glycyl Glutamine Chelate™. This is a form of Glutamine bound with Glycine and Albion Labs Chelated magnesium. By molecularly bonding these three nutrients we can form non carbohydrate glucose in times of stress (ie training). This leads to increased cellular energy and a huge anticatabolic effect.*
BCAA Blast™ Also Contains HICA. HICA is an isolated metabolite of leucine (the most important metabolite yet to be discovered for muscle growth) and then concentrated so you can take it in a macro-dosage. This macro-dosage of HICA when taken by weight training athletes, supports increases lean body mass (muscle) and may decrease symptoms of delayed-onset muscle soreness.* This means when you take HICA, as shown in the research studies, you may recover faster from workouts.* This will allow you to train harder and more often. Guess what happens when you train harder and more often? YOU BUILD MORE LEAN MUSCLE AND STRENGTH FASTER!*