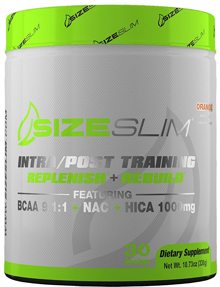 SizeSlim Intra/Post Training Replenish + Rebuild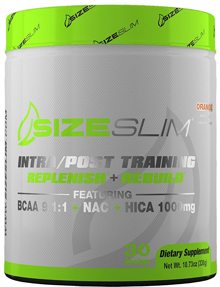 SizeSlim Intra/Post Training Replenish + Rebuild
Ideal For Between Meals And During Workouts To Feed Muscles And Fuel Recovery*
SizeSlim Intra/Post Training Replenish + Rebuild is a sport drink mix designed to delay muscle fatigue and speed up the recovery process post training.* SIZESLIM INTRA/POST TRAINING IS LOADED WITH A BLEND OF PREMIUM INGREDIENTS DESIGNED TO
Prolong athletic performance* Stimulate muscle protein synthesis (Recovery) and reduce muscle soreness* Maintain hydration and immunity health*
our functional ingredients include
BCAA 9:1:1 BCAA's are 3 specific amino acids – Leucine, Isoleucine and valine. These Branched Chain Amino Acids help to delay and prevent muscle breakdown and increase recovery from training while supporting muscle repair.* The most influential of the three BCAA's is Leucine as it has the strongest anabolic (building/recovery) impact on the body.*
HICA HICA is a Branched Chain Amino Acid that newer science has shown to support strength, reduce fat and soreness, while promoting performance.* It is commonly known as Leucine "big brother" and is a metabolite of it.
Ashwagandha Ashwagandha root that has been suggested to give support to our adrenal glands. It is also known to have immune system supporting benefits.*
NAC The amino acid NAC (N-Acetyl-L-Cysteine) provides very strong immune system and liver support.
ELECTROLYTES Electrolytes are minerals in your blood and other body fluids that carry an electric charge. Electrolytes affect the amount of water in your body, the acidity of your blood (pH), your muscle function, and other important processes.*
---
FEATURES & BENEFITS
STRENGTH & SUPPORT
SizeSlim Intra/Post Training provides the fundamental building blocks (Branched Chain Amino Acids) to help you maintain physical stamina. SizeSlim Intra/Post Training also includes the key ingredient, Ashwagandha, helping users decrease stress and inflammation that may occur after rigorous training.
REPLENISH
Most people experience some level of dehydration post exercise. Unlike the majority, SizeSlim Intra/Post Training includes much needed electrolytes to assist with proper hydration and safer athletic performance.
REBUILD
The muscles of your body go through a constant process of breakdown and rebuilding. SizeSlim Intra/Post Training includes a 9:1:1 BCAA ratio to speed up the rebuilding process and reduce soreness from a long day of training.*
WHEN IS THE BEST TIME TO TAKE SIZESLIM INTRA/POST TRAINING?
SizeSlim Intra/Post Training is best taken either during, or immediately after training. However, sipping in between meals throughout the day when you may not have time to get a full meal, will stop your body from falling into a catabolic state (muscle breakdown process). It also provides a great immune system boost at any time of the day with the highest quality form of vitamin C in a calcium ascorbic form that's PH balanced, NAC and ashwaganda.*
DOES SIZESLIM INTRA/POST TRAINING CONTAIN SUGAR?
No. There is zero sugar in SizeSlim Intra/Post Training. We do not believe in adding sugar to our products. We want to leave that option up to the consumer.
DOES SIZESLIM INTRA/POST TRAINING CONTAIN CREATINE?
No. We chose to leave creatine out of SizeSlim Intra/Post Training to prevent unwanted bulk and water retention.
DOES SIZESLIM PRE-TRAINING INTRA/POST TRAINING CONTAIN BETA-ALANINE?
Yes. We chose to include the "minimal effective dose" in SizeSlim Intra/Post Training so the user gets the best benefits without the uncomfortable effects of excessive amounts often used in other products.