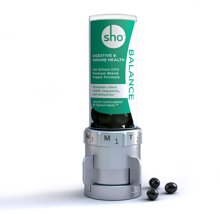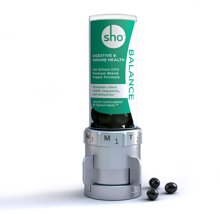 100 BILLION CFU POTENCY: Each Spheri-Gel contains highest 50 BILLION CFU of Probiotics - a recommended daily serving of two easy to swallow gels provide 100 Billion CFU! All ingredients are Pure, Potent & High Quality, Shelf Stable and Contain NO Dairy, Gluten, Eggs, Fish, Nuts, Artificial Sweeteners, Artificial Colors, Flavours, or Additives.

UNIQUE 5-in-1 FORMULA: 100% Vegan, Clinically researched Probiotic bacteria LACTOBACILLUS CASEI K-1 derived from fermented rice in Japan and Prebiotics Fructooligosaccharides FOS, Spirulina, Flaxseed Oil and Olive Oil. Prebiotics further enhance Probiotic organisms. Our prebiotics and probiotics reach the large intestine after surviving stomach acids giving you maximum benefits.

EFFECTIVE GUT HEALTH: L. Casei K-1 is clinically proven that its regular use helps relieve constipation, improve regularity, detox, and clear skin flare-ups. Our antioxidant superfood addition further enhances immunity, anti-inflammation, and IBS symptom reliefs such as gas and bloating.

EASY DAILY HEALTHY HABIT: Never Skip Your Daily Dosage with INNOVATIVE & SMART 1-CLICK DISPENSER. Also Avoid Contamination by Touching Gels, minimize Stickiness due to Air & Moisture Exposure, and prevent Wastage due to Accidental Spillage. Get Your Daily Spheri-Gels with Simple Clicks.

EASY TO SWALLOW, 1/4 Inch SMALL SIZE SPHERI-GELS: No more daily anxiety of gulping down those horse-pills which may cause you to skip your essential dosages. Our Small, pearl-like Spheri-Gels can be easily washed down. Store in Cool Dry Place, No Refrigeration Needed.
More