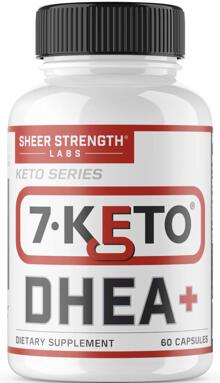 Sheer Strength Labs 7-Keto DHEA +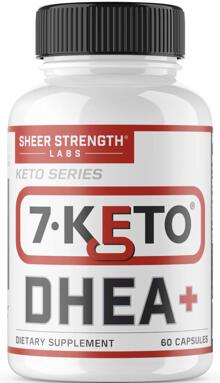 Sheer Strength Labs 7-Keto DHEA +
SUPERIOR DHEA STACK: Our premium DHEA formula boasts 100mg of DHEA (dehydroepiandrosterone) with 200mg 7-Keto DHEA (7-oxo-dehydroepian-drosterone), a natural metabolite of DHEA. 7-Keto DHEA has been shown in FDA-registered studies to nearly TRIPLE the weight loss results of men and women on a healthy diet and exercise program. DHEA has been shown to increase lean muscle mass and help restore youthful energy levels. Together, you have an unbeatable stack!

WITHOUT DHEA, YOU'RE MISSING OUT: DHEA is a natural 'anti-aging' hormone in your body that starts to decline in your mid-late 20s. Low DHEA levels in men and women are linked to depression, anxiety, fatigue, low libido, sagging skin/wrinkles, and weight gain. Because DHEA and it's natural metabolite 7-Keto DHEA are not found in food, the only solution is supplementation. Try our 7-Keto DHEA now and stop missing out!

OUR GUARANTEE TO YOU: At Sheer Strength Labs, we care about your results and your experience, which is why we focus on encapsulating the purest, most potent supplements on the market. We are so confident that you will love our 7-Keto DHEA supplement that we back your orders with a 100% 'love your results or your money back' 60-day satisfaction guarantee. Enjoy your experience or your money back!

SAFE AND RELIABLE: Our 7-Keto DHEA is 100% Free of the GMOs, preservatives, binders, fillers, dairy, gluten, soy, peanut, egg, or hidden ingredients found in many DHEA supplements.

PREMIUM QUALITY AND PURITY YOU DESERVE: our 7-Keto DHEA is manufactured in a state-of-the-art GMP-certified facility in the USA from the absolute purest DHEA. This is done to guarantee the highest levels of ingredient purity, potency, and safety that you need to enjoy real results. Ready to get started? Hit the 'Add to Cart' button at the top of the page now!
More