Quick Links to Our Prices
How does this work and how do stores get listed? See our disclosure below to learn more.
44 Servings
(Buy 1 Get 1 FREE) Price History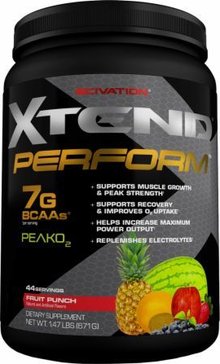 Xtend Perform
Changing your training is easy, but transforming your training truly takes effort. And it is from this transformation where the body adapts and responds with improvement in muscular endurance, functional body composition, and in awe-inspiring muscular maturity.*
Take a new approach. Transform your training with Xtend Perform. Whether you are looking to shatter a PR or to demolish a plateau - no matter the goal - eclipse your previous best with Scivation Xtend Perform, the perfect tool for unlocking a new level of physique, training and athletic performance.*
Mike and CJ's Scivation Xtend Perform Review
We both tried it with different use cases, and both found very interesting and awesome things happening here for endurance workouts!
Scivation Xtend Perform combines the trusted and tested performance of Scivation Xtend Perform with PEAKO2, a novel, university researched and patented blend of performance-enhancing compounds to help you discover an entirely new level of training and achievement.*
Supports Recovery & Improves O2 Uptake!*
Helps Increase Maximum Power Output!*
Replenishes Electrolytes!*
Branched Chain Amino Acids
Scivation Xtend Perform contains 7 grams of branched-chain amino acids (BCAAs) per serving. No hiding, no tricks, no "padding" from cheap or completely random amino acids. Each serving of Scivation Xtend Perform contains 3.5 grams of Leucine to stimulate muscle protein synthesis plus 1.75 grams of Valine and 1.75 grams of Isoleucine.*