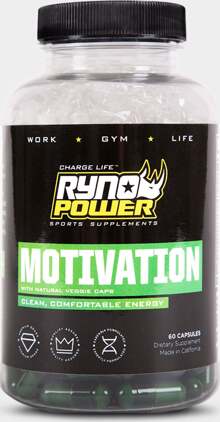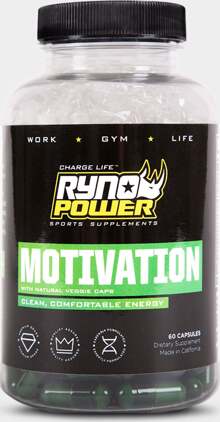 FOCUS, STEADY ENDURING ENERGY*
ALL NATURAL ENERGY FORMULA*
ENHANCES MENTAL AND PHYSICAL PERFORMANCE*
FOR ALL ATHLETES AND AGES
MOTIVATE YOURSELF TO CHARGE LIFE!
360 MG OF GUARANA SEED EXTRACT! (EQUIVALENT TO 180 MG CAFFIENE)
Ryno Power MOTIVATION enhances mental and physical performance.* It's made with a safe and effective synergy of energizing herbs and is great to keep pace for hours without mental fatigue. Tyrosine, in MOTIVATION, is a rare ingredient suggested to improve performance under stressful conditions.* The Guarana seed extract is released slowly over as long as six hours to give you sustained energy not the quick boost you get from coffee or energy drinks.*
With Guarana Extract (50% Caffeine), Gingko Biloba, Vinpocetine (Dwarf Periwinkle plant Extract), DMAE, L-Tyrosine, L-Taurine, Bioperine, Glucoronolactone, Inositol, and Vitamin C, B5, B6.
CONTAINS GINKO BALOBA AND VINTROPICINE WHICH AID IN REBUILDING BRAIN CELLS AND INCREASE MEMORY. GET MOTIVATED FOR ANY EXERCISE ACTIVITY!
ENHANCES MENTAL AND PHYSICAL PERFORMANCE
GREATER MENTAL CLARITY AND FOCUS
SUSTAINED ENERGY WITHOUT SPIKES AND DROPS
REPLACE COSTLY COFFEE AND ENERGY DRINKS
PREVENTS DEHYDRATION FROM SYNTHETIC CAFFEINE
#CHARGELIFE
MOTOCROSS • MTN BIKE • JET SKI • SKATEBOARD • SURF • CROSSFIT
The Most Scientifically Advanced Supplements Available.
All Ryno Power Supplements are approved by the International Olympic Committee