Warning: This product is not currently available at any store.
Click the button above and PricePlow will email you when the first store has it in stock!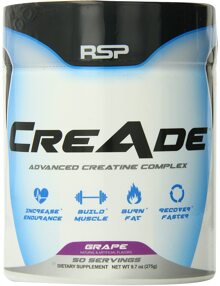 Creatine with An Explosion of Flavor!
• 5 Forms of Creatine!
• Create Transport Matrix for Optimal Absorption!
• Increase Size and Strength!
• Restore Depleted ATP Stores for Extended Training Energy!
Create is a creatine formula with five, yes five forms of micronized creatine in a formula designed for optimal absorption. Take a look at the ingredient breakdown:
Create Creatine Matrix (4,000 mg)
This matrix supplies 5 forms of creatine:
Creapure (Creatine Monohydrate) - This is the original creatine, the one that started it all! Creapure promotes muscular energy via the ATP system and has been shown to promote increases in muscle size and strength, as well as improve recovery. This is the most researched version of creatine as well as the one that's been on the market the longest.
Tricreatine Malate (Creatine Monohydrate Malic Acid Blend) - Tricreatine malate, like other more recent versions of creatine, claims to be more effective than creatine monohydrate. In most cases, newer creatine's attempt to deal with creatine monohydrates shortcomings, such as mixibility, bloating and gastric discomfort as reported in some users.
COPMax (Creatinol-O-Phosphate) - COPMax has a similar structure to creatine and it has been shown to amplify creatine's effects. It also helps the body deal with lactic acid which results in an increased work capacity.
Creatine (MagnaPower Magnesium Creatine Chelate) - This version of creatine is bound with magnesium, which improves absorption. Magnesium also supports energy and protein synthesis.
Creatine Pyruvate - Creatine pyruvate blends creatine and pyruvic acid which enhances aerobic metabolism, promoting greater endurance.
Create Transport Matrix (1,011 mg) - This complex is included to promote full absorption and takes away the need for a loading phase.
Other Ingredients:
L-Arginine Hydrochloride – this version of arginine promotes HGH production, which in turn promotes enhanced recovery and fat reduction. Arginine is also well known for increasing blood flow and nutrient delivery.
L-Glycine - assists the other amino acids in pushing creatine into the muscle cells for optimal ATP regeneration.
Peak ATP - This is a patented ATP complex that promotes increased levels of ATP which keeps energy flowing to the working muscles
L-Methionine - assists the other amino acids in promoting creatines effects.
Serving Size: 5.5 Grams
Servings Per Container: 50

Amount Per Serving

Calories - 0

Crea-Track Blend - 5000 mg
KinetiX Muscle Mover Blend
Creapure (Creatine Monohydrate), Tricreatine Malate (Creatine Monohydrate Malic Acid Blend), COPMaxT(Creatinol-O-Phosphate) And Creatine Pyruvate

Muscle Supporters
Arginine HCl, Glycine, Peak ATP, Methionine

Muscle Energy
Peak ATP (Adenosine 5' - Triphosphate Disodium)

Other Ingredients:
Citric Acid, Natural & Artificial Flavors, Silicon Dioxide, Sucralose.

Directions
Take one scoop with 8 oz. cold water immediately before your workout and take a second scoop with 8 oz. cold water immediately after your workout. On off-days, take one scoop mid-morning with 8 oz. cold water. No laoding or cycling is required.

Warnings
Discuss with your physician before taking if you have a medical condition or are taking any prescription medications. Stop use and discuss with your physician if any negative effects occur. Do not exceed suggested dose. Do not take if pregnant or lactating. Must be 18 years old to use this product. Keep away from children.