Quick Links to Best Prices Price History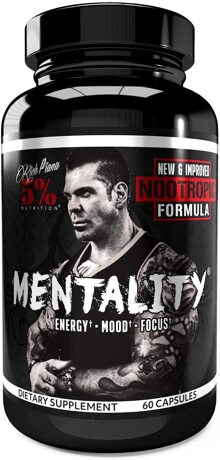 Rich Piana 5% Nutrition Mentality
These statements have not been evaluated by the Food and Drug Administration. This product is not intended to diagnose, treat, cure, or prevent any disease.
ɫ Super Amplified Focus ɫ Instant Mental Development ɫ Ultra Extended Energy
Mind Over Matter Mental Power Blend
This blend contains an overflowing collaboration of potent "brain feeders" that directly encourage greater memory retention, streamlined focus, and mental energy and stamina while defeating mental fatigue and exhaustion. MENTALITY creates mental superiority to help you tackle your day at a high level of performance.
PsychoStim Energy Burst


MENTALITY uses several forms of caffeine to give you a dynamic and multi-faceted spark in energy that meets your physical and mental needs: both immediate, the interim period, and long term for many hours. Without the harsh crash. The last thing you need is short-fused energy right during critical times of your day only to abandon you with a tough to face crash. To compliment this blend, Mentality also contains a high dose of B-12 for extra added natural energy.
Lucid Focus Neurotransmission Blend


These cognitive triggers keep your brain on high alert and attentiveness to dissect even the most complex of scenarios. They are the match that set off and ignite a series of mental performance fireworks. Increase your attention span and focus on the task at hand with this intense blend of very effective ingredients.
Cerebral Shock Cognitive Igniter Blend


Whether it is a night out on town, a night of gaming, a night of studying, or a full day of meetings, this blend is the finishing touch aimed to DIRECTLY ignite your system. These sought after ingredients take you to where you need to be and keep you there.