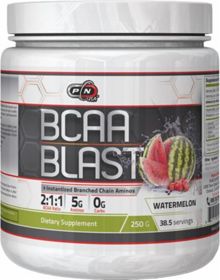 Pure Nutrition BCAA Blast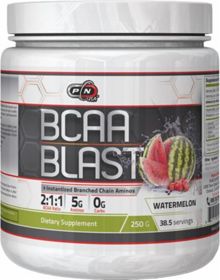 Pure Nutrition BCAA Blast
The Recovery You
Always Wanted
Great Flavor, Support Recovery*
Instantized for Better Absorption*
Promote Protein Synthesis*
Perfect BCAA Ratio 2:1:1 for Superior Results*
With Added Glutamine to Support Recovery*
BCAA BLAST is a blend of 5000 mg of Branched Chain Amino Acids and Glutamine for lean muscle and recovery. BCAAs are the most abundant amino acids found in muscle tissue and are the most readily absorbed group of amino acids. BCAA BLAST contains the ideal ratio of 2 parts Leucine to 1 part Isoleucine and Valine. Take your results to a whole new level with this great tasting drink.
These amino acids support protein synthesis and nitrogen retention, both essential to building lean muscle. BCAAs are metabolized directly in the muscle and are considered "essential" because the body cannot build them from other compounds. Instead they must come from diet or supplementation. BCAA BLAST also contains glutamine. This important amino acid may help support recovery.*
Branched-Chain Amino Acids Study Amongst Athletes
BCAA Blast Is Available in 9 Delicious Flavors:
Pure Nutrition was found in 2011. At that time we already had experience selling other brands of nutritional supplements. Spending more than 5 years looking for the "perfect" products, In the end we have found out that there is only one way we can be sure we have the best quality products, the best tasting proteins and products that deliver uncompromised results - create our own supplement line. With so many good brands on the market, the beginning was very difficult. We started with less than 10 products, but currently our portfolio includes more than 230 different products. Since then we have committed to becoming one of the most trusted brands in the industry. Our mission is clear our customers are our number one priority and therefore, we strive to provide them with nothing else, but premium-quality products at affordable prices. Several years later, looking back - we are satisfied with how the product line looks. The joy of customer satisfaction motivates us to continue doing what we do even better.