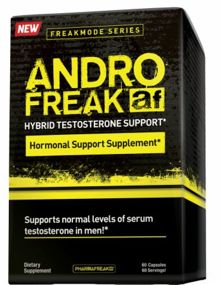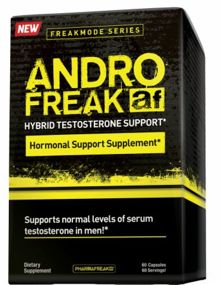 ANDRO FREAK is a cutting-edge testosterone booster!*
ANDRO FREAK features the clinically studied ingredient PRIMAVIE, a patented form of shilajit. In fact, it's the only form of shilajit proven to support optimal healthy testosterone levels and provide other health benefits!*
ADDITIONAL BENEFITS
In addition to supporting healthy testosterone, ANDRO FREAK:
1. Supports Nitric Oxide production!*
2. Helps supports cardiovascular health.*
3. Supports Weight Management When Combined With A Proper Diet and Exercise Program.*
SCIENCE BEHIND ANDRO FREAK
HORMONAL SUPPORT COMPLEX 1
PRIMAVIE Patented Shilajit 125 mg
ANDRO FREAK delivers a highly purified form of shilajit called PRIMAVIE which is derived from layers of rocks in the pristine Himalayan mountains. This patent protected compound is standardized to deliver 60% fulvic acid.
L-Theanine 100 mg
L-theanine is a unique free-form amino acid with anti-catabolic support properties.*
Resveratrol 25 mg
Resveratrol supports antioxidant activity.*
HORMONAL SUPPORT COMPLEX 2
Vitamin B6, vitamin B12, vitamin D3, and vitamin K2 are all important vitamins that play a key role in hormone production and, more specifically, testosterone synthesis.*
WEIGHT MANAGEMENT SUPPORT COMPLEX
CH-19 Sweet Red Pepper 200 mg
CH-19 sweet red pepper extract is a nonpungent (non-spicy) cultivar of red pepper and contains three known capsaicinoidlike substances that can boost fat burning: capsiate, dihydrocapsiate and nordihydrocapsiate.*
Green Coffee Bean Extract 200 mg
Green Coffee Bean (GCB) can help support weight management.*