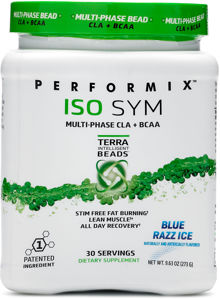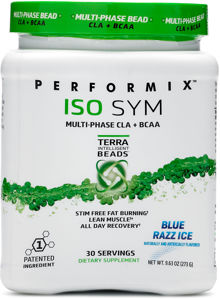 Multi-Phase CLA + BCAA
Stim Free Fat Burning*
Lean Muscle*
All Day Recovery*
PERFORMIX ISO SYM will ensure you never sacrifice muscle for fat loss again. This product is designed for those who demand true physical transformation. Our leading-edge blend of 1.8g of CLA, 500mg of L-Carnitine and 3g of BCAAs helps burn fat while promoting and preserving lean muscle. Our time-release ISO beads ensure prolonged release of BCAAs for recovery, muscle support and hydration. This complex harnesses TERRA Intelligent Dosing technology to create an all-day, anti-catabolic shredding cycle.*
Available In
Patented Clinical Ingredients Combined With Pharmaceutical Delivery System
STIM FREE FAT BURNING*
CLA is a natural and powerful fat burner that promotes healthy body composition, supporting fat loss while preventing lean muscle loss. This is an ideal addition to anyone looking to shred and tone without stims.*
LEAN MUSCLE*
The unique combination of CLA and BCAA's allow you to truly sculpt a lean physique instead of just losing pounds. These ingredients work together to support the development and preservation of lean muscle.*
ALL DAY RECOVERY*
Our time-release ISO beads fuel recovery so while you lose fat, you preserve gains and key nutrients to fuel your fitness regimen. Terra Intelligent Dosing ensures prolonged release of BCAAs for recovery and muscle support and our hydration system consistently replenishes electrolytes.*
The Terra Difference
Unique TERRA Intelligent Dosing technology offers controlled release of key metabolic ingredients. This targeted nutrient delivery system is designed to impact absorption and drive unparalleled results. 
Advanced Multi-Phase
Extended Release
PERFORMIX TERRA BEAD MULTI-COATING MATRIX
DISPERSION COATING
Intelligent rate control polymer designed for extended release ingredient profile.
TERRA TARGET INGREDIENTS
HYDROPHILIC COAT
Intelligent carrier control pore former within the dispersion coat provides delayed release functionality.