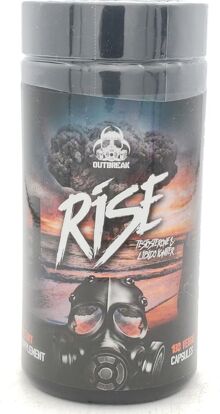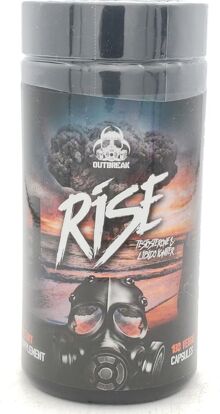 Testosterone & Libido Igniter! Be Warned! This Is Not On Of Those Gentle "Sports Nutrition" Products That You Are Not Sure Is Working!
Rise is Outbreak Nutrition's most potent survival weapon for men. We know the things required to survive in this post apocalyptic world. We need strength, power, aggression and drive. Rise provides all of these by super fueling our bodies testosterone levels and controlling estrogen. This provides a more anabolic environment for the body, allowing faster muscle growth, enhanced fat loss and a heightened libido (we have to repopulate the planet after all).
Be warned! This is not on of those gentle "sports nutrition" products that you are not sure is working, Rise WILL have you dominating the world around you and taking no prisoners. The ingredients in Rise have been clinically shown to significantly raise Testosterone levels and libido and lower estrogen.
So what's in this bad boy?
Zinc & Magnesium 200% & 50% RDI- These two minerals are crucial to suppporting healthy testosterone levels, without adequate levels of these it's nearly impossible to increase them. In the post apocalyptic wasteland they can be tough to find.
AgresTest (Fadogia agrestis) 10:1 Extract 1200mg - This highly potent trademarked extract quickly and significantly boosts testosterone levels and through clinical studies has also been shown to enhance libido (sex drive) and even increase stamina in the bedroom.
KSM-66 (Ashwaghandha Extract) 500mg - Ashwaghanda has a plethora of benefits for men and we have been able to source the most potent and well studied version KSM-66. This ingredient increases endurance, libido and free testosterone levels as well as being a very strong adaptogen meaning you will stay focused and calm no matter how tough the day is.
Fenugreek (Trigonella foenum-graecum) 500mg- Fenugreek has been consumed for hundreds of years for its virility inducing effects, we now know it works by increase libido through raising testosterone levels. We have sourced a high quality version to ensure the highest level of effects.
Longjack (Eurycoma longifolia) 100:1 Extract 300mg- LongJack extract does two important things in this formula, it's provides a fantastic aphrodisiac effect as well as potent anti-estrogenic qualities.
Boron Citrate 100mg (equivalent 5mg boron) - Boron supports healthy hormone levels and increase free testosterone, inadequate boron consumption can significantly hinder testosterone levels in men.
Androsta-3,5-diene-7, 17-dione 50mg - One of the strongest estrogen blockers available. When we boost the bodies testosterone levels, the body automatically attempts to increase estrogen as well. It's important we prevent this to ensure the maximum anabolic state of the body is kept.
Note: Manufacturers continually change product specifications. While we try our best to keep product descriptions up to date, they do not necessarily reflect the latest information available from the manufacturer. We are not responsible for incorrect or outdated product descriptions and/or images.
FDA: These statements have not been evaluated by the Food and Drug Administration. This product is not intended to diagnose, treat, cure, or prevent any disease.