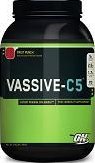 Optimum Nutrition Vassive-C5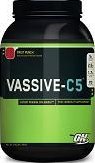 Optimum Nutrition Vassive-C5
NEW Vassive C5 creatine power system from Optimum Nutrition is the latest in strength and power supplements . Vassive C-5 is a superior blend of muscle swelling post workout recovery ingredients such as beta alanine plus 4 advanced buffered Cre-Energy.

Vassive C5 at psupplements is primed for nutrient-enhanced delivery that uses cell-shuttle and phos-4 technology to increase cellulor uptake and use of these potent recovery enhancing ingredients. Try Vassive C5 today and experience unparalled muscle recovery faster than you have ever imagined.

Supplement Facts
Serving Size 1 Scoop(18.5g)
Servings Per Container 30

Amount Per Serving % Daily Value

* Calories 25
* Total Carbohydrate 6g 2%*
* Sugars 0g **
* Vitamin E (As Dl-Alpha-Tocopheryl Acetate) 30IU 100%
* Vitamin B12 (As Cyanocobalamin) 3mcg 50%
* Folic Acid 200mcg 50%
* Calcium 270mg 27%
* Magnesium 30mg 8%
* Phosphorus 200mg 20%
* Sodium 70mg 3%
* Potassium 140mg 4%

C5 Strength & Endurance Blend 5g **

Cre-Energy Buffered Creatine, Creatine Alpha Ketoglutarate, Beta-Alanine, Creatine Citrate, Creatine Ethyl Ester Hydrochloride

Glutamine (As L-Glutamine, Glutamine AKG) 2.5g **

Optimum Vassive-C5 Proprietary Cell Shuttle Blend 1.7g **

Rice Oligodextrins, L-Taurine, L-Alanine, L-Glycine, Cinnulin PF Cinnamon Extract (Cinnamomum Cassia)(Bark)(Standardized For Trimeric, Tetrameric Type-A Polymers), Guanidino Proprionic Acid

Optimum Vassive-C5 Proprietary Phos-4 Blend 1g **

DiCalcium Phosphate, DiPotassium Phosphate, DiMagnesium Phosphate, DiSodium Phosphate

Other Ingredients
Carbohydrate Matrix (Glucose Polymers, Waxy Maize Starch), Malic Acid, Natural And Artificial Flavor, Calcium Silicate, Silicon Dioxide, Sucralose, Citric Acid, Acesulfame Potassium, FD&C Red #40

Directions:
Add one scoop of Vassive-C5 to a glass, shaker, or bottle filled with 12-16 ounces of cold water (more/less water may also be used to attain desired flavor concentration). Mix thoroughly for 10-15 seconds or until contents are well dispersed.

NOTE: Vassive C5 is a highly concentrated supplement mix and not all ingredients will ever completely dissolve into solution. Agitating the prepared liquid slightly during consumption will help suspend the ingredients long enough to drink.

Recommended Use:
Consume one serving of Vassive-C5 upon completing your training. For best results, consume a serving of Vassive-N.O. 30-45 minutes before training.