Warning: This product is not currently available at any store.
Click the button above and PricePlow will email you when the first store has it in stock!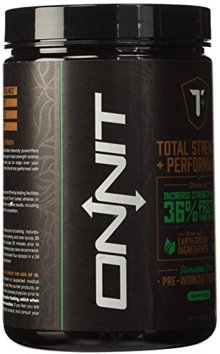 Shown to increaseStrength up to 36% faster than placebo.T+
Stimulant-free
Pre-workout formula
Recommended by:
Joe DeFrancoCasey WilliamsUlysses GomezBen SaundersTJ DillashawIan McCallJohn WolfLuke BarnattRafael Lovato×OverviewResearchIngredients & UseOverviewT+ TOTAL STRENGTH + PERFORMANCE
STIMULANT-FREE, PRE-WORKOUT FORMULA
This formula is designed to increase total strength and power output for all athletes, novice to professional — and it is shown to work. In a recent, double blind, placebo controlled study, athletes taking T+ over four weeks demonstrated strength gains 36% faster than placebo. More than just a competitive edge, T+ is an athletic performance revolution.
Proprietary Formula designed to:
STRENGTH AND POWER SUPPORT

IMPROVE ATHLETIC PERFORMANCE

ASSIST WITH MUSCLE RECOVERY
CLINICALLY STUDIED RESULTS
A double blind, placebo controlled study by Dr. Ormsbee involving members of a Florida State University athletic team revealed that the athletes taking T+ improved overall max weight lifted over a 4 week supplementation period 36% faster than placebo. Statistically significant improvements were shown in bench press, and overall weight lifted in the combination of squat, deadlift, and bench press.
Made With Earth Grown Ingredients
Synthetic compounds can be effective for the short term. But the body as a biological machine evolved to process food-sourced nutrients, and so the closer we are able to stick to the blueprints, the more holistic the performance optimization will be. T+ breaks the mold on pre-workout formulas, steering clear of the chemicals and stimulants that flood the market with quick pumps and highs. Our ingredients like Longjack, Beta-Alanine, and Luteolin are easily recognized and utilized by the body. The old era of performance supplementation is fading, and athletes who utilize an Earth grown nutrient approach are seizing the opportunity for greater performance and long term performance sustainability.
What's New in the New T+?
The new T+ increased from an overall 11 gram serving to a 14 gram serving. No ingredient was reduced, and several were increased. The new T+ contains additional Longjack, and a plentiful serving of BCAAs for peak athletic performance.
ResearchT+ TOTAL STRENGTH + PERFORMANCE
Research
Onnit Labs T+ formula was held to the gold standard of scientific testing when researchers from Florida State University conducted a double blind, placebo controlled study that utilized college level athletes. The results indicated that four weeks of T+ supplementation could significantly improve powerlifting performance. Athletes who ingested T+ achieved 36% greater improvements in total strength relative to athletes who consumed a calorie-matched placebo. The unique combination of earth grown nutrients present in T+ are now known to have a substantial impact on pushing the limits of human performance.
Building Blocks for Improvement
The T+ study showed significant performance improvements in bench press as well as the total combined weight for squat, bench press and deadlift. T+ includes compounds well known as enhancers of athletic performance. The modified amino acid beta-alanine is a highly researched ergogenic aid, shown to help the body directly enhance muscle endurance and improve performance in cyclists, rowers, alpine skiers and even increase the punching power in boxers. Beta-alanine is the rate-limiting precursor for carnosine synthesis, an important peptide highly concentrated in skeletal muscle. Elevating muscle carnosine with beta-alanine supplementation is hypothesized to enhance the contractility of muscles through increasing buffering capacity.
Enhanced Support
Branched chain amino acids (BCAAs) are the cornerstone for protein synthesis in muscle tissue [href]. BCAAs can be obtained through diet, however additional supplementation has been proven beneficial to reduce muscle soreness. The BCAA content and L-glutamine likely benefited recovery in the athletes taking T+, however a consensus amongst strength training professionals is that the performance improvements cannot be attributed to the amino acid profile alone. Nevertheless, the amino acids are a key protective aspect of the T+ formula and may have played a role in the strength gains observed in this clinical study.
Performance Optimization
T+ contains compounds when in isolation, have been shown to improve the endocrine profile in certain populations. Mucuna pruriens has been shown to elevate testosterone by improving the hypothalamic-pituitary-adrenal axis response and Longjack similarly showed testosterone improvements in older males. The demographic of the subjects tested in the T+ study was fundamentally different than existing data on these compounds. Longer supplementation periods in older, less active males have a greater propensity for testosterone improvements by natural compounds. Though T+ significantly improved strength, 4-weeks of T+ did not substantially alter the hormone profile of these young athletes. Testosterone elevation is known to have an anabolic effect on muscle growth and strength, yet manipulation of the endocrine system is accompanied by risks as well. How each of the compounds in T+ contributed to the strength improvements seen in this group of athletes is challenging to differentiate and a subject of further research on this formulation.
Results and Implications
The double blind, placebo controlled human study at Florida State University produced valuable data that showed T+ safely and effectively helps athletes achieve greater strength improvements. Subjects in this closely monitored study attempted to push their bodies to the limit and lift as much weight as possible in a competitive powerlifting setting. When the performance metrics from T+ and placebo were finally compared, T+ clearly helped athletes edge out their competitors and lift additional weight. These results have clear implications for not only the sport of powerlifting, but athletes who utilize strength in any arena.
IngredientsT+ TOTAL STRENGTH + PERFORMANCE
Ingredients
NEW & IMPROVED FORMULA
Mucuna Pruriens Seed Extract
- Seeds from this annual, tropical shrub help the body provide support to the dopamine system in the brain. Increased endogenous production of dopamine can be correlated to an increase for the HPA-axis and human growth hormone response.
Longjack Root Extract
- Longjack is a flowering plant native to Indonesia and Malaysia that is referred to as "bitter charm". Quassinoids are the biologically active component that is commonly used in these countries as food and drink additives, specifically for coffee and energy drinks. Longjack has been shown to help the body restore optimal testosterone levels in aging males.
Nettle Root Extract
- Known as stinging nettle, this herbaceous plant has a long history as a food source rich in fiber. Nettle Root also appears to assist the body with optimizing the level of androgens including free testosterone and DHT. There is also some interesting research into potential benefits to overall recovery.
Red Clover Flower Extract
- This wild herb grows throughout Europe and Asia. The red flowers at the end of the stems are used for their nutrient values and isoflavones.
Luteolin
- Found naturally in celery, lemons, peppermint, oregano and a handful of other herbs, this citrus bioflavonoid acts as an antioxidant. Known in Chinese traditional medicine for centuries, luteolin has reported anti-estrogenic effects.
Beta Alanine
- Beta-alanine is a non-essential amino acid found naturally in foods such as chicken, beef, pork and fish. Beta-alanine helps maintain an optimal pH level in the blood, helping the body to buffer lactic acid more efficiently. Beta-alanine is the rate-limiting precursor for carnosine synthesis, an important peptide highly concentrated in skeletal muscle. Elevating muscle carnosine with beta-alanine supplementation is hypothesized to enhance the contractility of muscles through increasing buffering capacity.
BCAA Amino Blend
- Naturally found in meats and fish such as chicken, beef, tuna, salmon and turkey, this blend of leucine, isoleucine and valine are three essential amino acids necessary for protein synthesis and muscle production. Increased levels of BCAAs can aid the body with fat oxidation as well as support energy levels. BCAA can also help the body reduce the catabolism of muscle tissue.
L-Glutamine
- Glutamine is an important amino acid for immune function support found naturally in meats and vegetables such as poultry, spinach and parsley. High intensity exercise decreases plasma levels of glutamine. Athletes can benefit from replenishing these levels to improve muscle recovery.
(Magnesium) Aspartic Acid
- Magnesium is found naturally in pumpkin seeds and other nuts and vegetables. It is an essential mineral necessary for muscle contraction and over 300 enzymatic processes. D-Aspartic Acid can be found in Oats, Beets, and Avocado, and among other benefits, can be helpful in optimizing brain hormones and neurotransmission. The combination provides a unique blend to be utilized for optimum performance.
Resveratrol
- Resveratrol is not just available in a glass of red wine! This polyphenol is also found in berries and cacao, providing great taste and free-radical scavenging qualities. Resveratrol also shows potential as a helpful agent in certain types of weight management.
BioPerine
(Black Pepper Extract) - Piperine makes up 95% of this compound extracted from black pepper. Bioperine has been shown in clinical research to promote increased absorption of nutrients in supplement formulations. With food toxins and other potential nutrient-absorption depleters, BioPerine beneficially interacts with the intestinal tract to ensure delivery of the other compounds in this formula.
Vitamin B6
- Naturally found in meats and fish such as tuna, this B vitamin is crucial for maintaining cell energy and the support of protein metabolism. More importantly, Vitamin B6 can help the body mitigate glycation.
Pantothenic Acid (Vitamin B-5)
- Naturally found in shiitake mushrooms, pork, sunflower seeds and a handful of other earth grown foods, this B vitamin is beneficial for adapting to stress. Under mental or physical stress, the body's demand for B vitamins is increased. Ensuring optimal levels of this vitamin during exercise and other strenuous situations helps your body with peak performance.