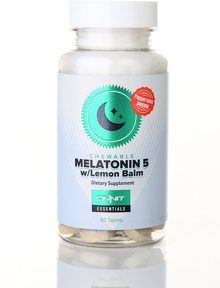 Onnit Melatonin 5 With Lemon Balm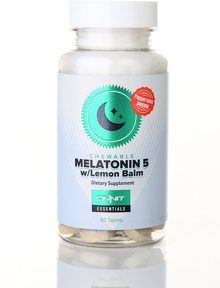 Onnit Melatonin 5 With Lemon Balm
Designed to help the body Shut off the lights for a long & restful sleep. Onnit Melatonin 5
Chewable tablet
with lemon balm
Recommended by:
AJ
Hawk Michelle Waterson John Romaniello Casey Williams David Brown Rich Telford Ulysses Gomez David Rickels Bobby Robins × Overview Research Ingredients & Use Overview Onnit Melatonin 5 with Lemon Balm
The "On-Demand" Sleep Hormone Supplement
Designed to help the body with shutting off the lights for a long, restful sleep
Let's face it, we humans rarely abide by the Earth's natural day/night sleep cycles. Electricity has created artificial light (not to mention television!) to allow all manners of work and play to exist deep into the dead of night, and most sleeping quarters provide blinds or curtains to block out the arousing rays of the morning sun. The result is that some of the mechanisms that have evolved inside us to assist with the sleep process have been thrown askew. One of these mechanisms involves the hormone melatonin. In a normal, pre-electricity scenario the pineal gland would release melatonin at the onset of darkness to help induce a desire to sleep. However, artificial light, especially high frequency blue light from visual electronics has been known to shift the release of melatonin, which can perturb sleeping patterns.
Ingesting supplemental melatonin can help the body signify to you, in a chewable 'on demand' manner, when it is time for your body to sleep. In assisting the body's natural desire to rest, the melatonin can help the body to enjoy a more restful sleep experience. By placing the melatonin in a unique chewable tablet, with the traditional relaxation herb lemon balm, cloaked in the breath friendly flavor of peppermint you have a fast and simple delivery system for this vital sleep hormone.
Research Onnit Melatonin 5 with Lemon Balm
Lemon Balm Melatonin Sleep Chewable
Obtaining adequate sleep is essential for maintaining mental alertness, physical performance, and positive mood. However, sleep disturbances are highly common amongst U.S. adults. According to National Sleep Foundation, between 30-40% of adults experience symptoms related to insomnia in a given year. Difficulty sleeping can be acute and related to environmental factors, such as stress, light, jet lag, or shift-work. Chronic sleep disturbances and difficulty with sleep onset can be associated with the biological processes that regulate the sleep-wake cycle.
Under normal conditions, the impulse to initiate sleep is driven by the body's internal clock mechanism. A brain structure known as the suprachiasmatic nucleus (SCN) responds to light and dark signals from the retina to influence body temperature and dictate the release of sleep promoting hormones. During dim or dark conditions, the SCN send signals to the pineal gland to trigger the release of melatonin, causing an increased desire to sleep. Artificial light, especially high frequency blue light from visual electronics, has been known to shift the release of melatonin and perturb sleeping patterns. Other physiological factors, such as emotional stress and anxiety, can diminish the ability to gain restful sleep.
The sleep inducing neurotransmitter, melatonin, also occurs naturally in many foods and can be taken as dietary supplement to help the body improve sleep patterns. Melatonin supplements have been shown to be effective in certain groups of individuals who experience chronic sleep disturbances or are subjected to episodic sleep caused by jet-lag or shift work. A recent study with subjects whose sleep cycle was offset showed improvements in sleep efficiency when taking melatonin thirty minutes prior to bedtime. Stress and anxiety can be detrimental to gaining restful sleep and can exacerbate existing problems. Lemon balm (Melissa officinalis) leaf extract has traditionally been used to support relaxation and promote healthy sleep.*
Combining melatonin and lemon balm leaf extract in a chewable tablet allows for quick absorption to help the body alleviate the stress and restlessness that can interfere with healthy sleep. For best results, consume thirty minutes to one hour prior to bedtime. In addition, adequate rest is best established through a reliable sleep schedule, nutritious diet, and frequent exercise. The Melatonin 5 Peppermint Chewable w/ Lemon Balm can help set a sleep schedule and reduce the factors that interrupt healthy sleeping patterns. For healthiest results cycle off of using any melatonin product for 2 out of every 8 weeks.
Ingredients & Use Onnit Melatonin 5 with Lemon Balm
Melatonin
Melatonin is a hormone made by the pineal gland, a small gland in the brain, and helps control your sleep and wake cycles.
Copyright © 2015 Onnit Labs, LLC. All rights reserved.