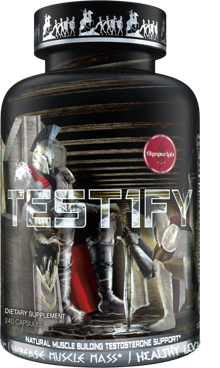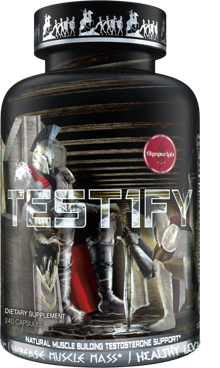 Olympus Labs Test1fy 240 caps
With so many miracle test boosters flooding the market today, it's hard to separate the quality products from the snake oil. Now from Olympus Labs comes a test booster that not only works, but makes the competition look like amateurs: Test1fy. Unlike the majority of other test boosters that only focus on elevating your test levels, Test1fy takes things one step further to give you real results that you can see and feel. With Test1fy, you have the ultimate test boosting supplement, delivering unprecedented size and strength gains that will give you results like you've never seen before. Not to mention that Test1fy contains no proprietary blends or hidden ingredients, making it easy for you to see why it stands out among the rest. Each serving of Test1fy is loaded with a stunning 3.2g of the of the herb Anacyclus pyrethrum, also known as Akarkara, which has been used in Eastern medicine for centuries to improve male virility. What's more, recent studies have shown that this potent herb can also promote an increase in vascularity and muscle definition, improved recovery time, and even improved athletic endurance. Test1fy is also loaded with 675mg of Ashwagandha Root, another powerful herb that originates in Eastern medicine, which functions to control the stress hormone Cortisol. Elevated cortisol levels can lead to catabolism and an increase in body fat storage, hampering your fitness goals, but Test1fy goes to work to keep it under control, encouraging an anti-catabolic environment within your body. What's more, Olympus Labs equipped Test1fy with 10mg of BioPerine to enhance the absorption of ingredients in Test1fy, ensuring that you are getting the most out of every milligram of each ingredient in this powerful supplement. If you're serious athlete who is ready to experience unprecedented strength and power, with soaring test levels to match, you need to try Test1fy. No matter what your fitness goals are – if you are cutting, bulking, or maintaining, it's time to see what a real test booster will do for you. Order your bottle of Test1fy by Olympus Labs today and prepare yourself for some mind-blowing gains!
Highlights
Extreme test booster
Regulates and controls estrogen
Moderates cortisol levels
Explosive muscular growth
Increases strength and power
Boosts libido
Directions and Dosage
Olympus Labs recommends taking 4 capsules twice daily with meals. Do not exceed more than 8 capsules in a 24 hour period. Increasing dose will not improve results.
Ingredients and Label
Serving Size: 8 Capsules
Servings per container: 30
Amount per serving %DV
Vitamin D (as D3 Cholecalciferol) 3,332 IU 833%
Anacyclus Pyrethrum (root) 3200mg **
KSM-66 Ashwagandha Extract (Made with certified organic ashwagandha) (Withania somnifera) (root) (standardized to minimum 5% total withanolides) 675mg **
LJ100 Standardized Eurycoma Longifolia extract (40% Glycosaponins, 28%
Bioactive Eurypeptides, 30% Polysaccharides, 0.8% Eurycomanone) 100mg **
Abieta-8, 11, 13-trien-18-oic acid min. 95% purity by HPLC) 103mg *
Mucuna Pruriens P.E. (std. min. 99% L-Dopa) 500mg **
Boron (from Albion boroganic glycine) 6mg **
Bioperine 10mg **
Other Ingredients: Cellulose, Gelatin, Silica, Magnesium Stearate, FD&C Blue #1, FD&C Red #40
Warnings and Side Effects
DO NOT USE UNDER EXTREME CONDITIONS OF HEAT, SLEEP DEPRIVATION, OR DEHYDRATION. DO NOT COMBINE WITH ALCOHOL. KEEP OUT OF REACH OF CHILDREN. NOT FOR USE BY INDIVIDUALS UNDER THE AGE OF 18 YEARS. DO NOT USE IF YOU ARE PREGNANT OR NURSING. Avoid alcohol while taking this product. Do not exceed recommended serving. Discontinue use and call a physician or licensed qualified healthcare professional immediately if you experience rapid heartbeat, dizziness, severe headache, shortness of breath, or other similar symptoms. Improper use of this product may be hazardous to a person's health. Exceeding recommended serving will not improve results. Consult with your physician before using this product, especially if you are using any prescription or over the counter medication, or if you have any pre-existing medical conditions including, but not limited to: high or low blood pressure, kidney or thyroid disease, seizure disorder, psychiatric disease, diabetes, difficulty urinating due to enlarged prostate, allergy to Aspartic Acid, or if you are taking a MAOI (Monoamine Oxidase Inhibitor) or any other medication, including but not limited to MAOIs, SSRIs, or any other compounds with a serotonergic activity.