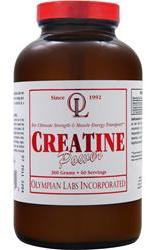 Olympian Labs Creatine Power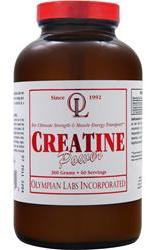 Olympian Labs Creatine Power
Creatine Power Description from OLYMPIAN LABS
Creatine is a compound that is produced by metabolic processes in the body that helps to power the muscles during workouts. Unfortunately, it only lasts for short bursts of time, which makes supplementation important so you can optimize your workout gains. When taken as a supplement, creatine can increase both endurance and strength, making it possible to workout more intensely. Intense workouts can result in increased lean muscle mass gains.

Most of our body's creatine is contained within skeletal muscle. Creatine Monohydrate is converted into Creatine Phosphate in our bodies then transported into our muscles where it serves to increase muscle energy levels. It does this by increasing the availability of the cell's energy molecule Adenosine Triphosphate (ATP). Creatine Monohydrate, the molecule of creatine accompanied by a molecule of water, is the most commonly used form of creatine for athletes and bodybuilders. Simply, Creatine increases the energy content of muscle cells. By providing elevated levels of creatine phosphate in the bloodstream, it becomes readily available for use in the energy cycles within the muscle. This increases the power and growth of muscles.
Supplement Facts
Service Size: 5 grams
Servings Per Container: 60
Ingredient
Amount
% Daily Value**
Creatine Monohydrate
5g
** Percent Daily Value is based on a 2000 calorie diet. Your daily values may be higher or lower depending on your calorie needs.
† Daily Value not established.

Manufacturer's Directions
As a dietary supplement, take one scoop with an 8 oz glass of water or orange juice before and after working out, or as directed by a healthcare professional.