Quick Links to Our Prices Price History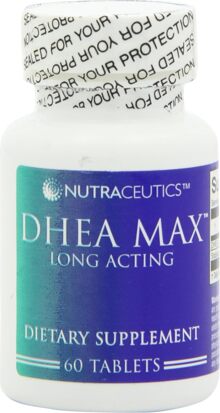 DHEA Max offers breakthrough technology
in the supplementation of DHEA (dehydroepiandrosterone).
DHEA Max is one of the first controlled-released forms of DHEA. Nutraceutics feels this is important to obtain high bioavailability and avoid "spike dosing" which is a common occurrence with capsules or tablets.
DHEA Max controlled release action helps mimic the body's physiological dosage.
DHEA Max also offers a state-of-the-art N.S.E.(natural self emulsifying) delivery system. This delivery system supports absorption of active ingredients by making them water and fat soluble.*
First Zero Release Dosage
Maximum absorption w/ NSE
Economical
Safe and Effective Dehydroepiandrosterone (DHEA) 25mg