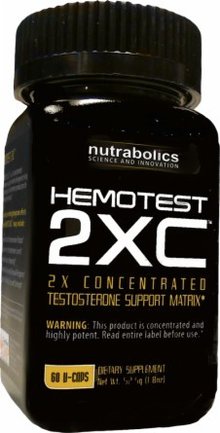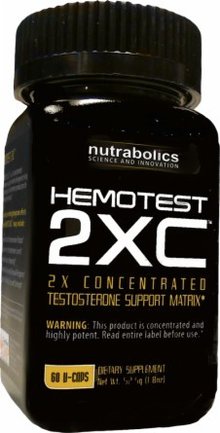 Increase Endurance*
Support Natural Muscle Building*
Detoxify Cells and Help Improve Vitality*
TESTOSTERONE, EVOLVED.
HEMOTEST 2XC is designed to support effective, natural testosterone production.* This potent formula is powered by high-tech ingredients such as Mucuna Pruriens, which has been scientifically suggested to elevate testosterone and growth hormone levels via the neurotransmitter precursor L-Dopa.* This key ingredient has also been suggested to help support sexual health.*

With the capacity to efficiently increase free testosterone concentrations without disrupting your body's natural hormonal processes, HEMOTEST 2XC represents a new generation of advanced testosterone supplements.*

Get ready to harness the full power of your natural potential!
NATURALLY AND EFFECTIVELY
BOOST TESTOSTERONE*
The HEMOTEST 2XC matrix contains potent natural ingredients that are designed to support testosterone formation and use.*The natural herbals in HEMOTEST 2XC won't shock your system or adversely affect your Pituitary Gland.*

Instead, HEMOTEST 2XC works with your body to elevate testosterone naturally by boosting your Luteinizing Hormone (LH) production, which then works to convert pregnenolone to various testosterone precursors and free up bound testosterone.*
2X CONCENTRATED TEST SUPPORT
Many brands offer products containing less-than premium ingredients or insufficient dosages of key actives.* This presents a frustrating array of choices to the athlete wanting to enhance their performance in and out of the gym.

By contrast, HEMOTEST 2XC contains potent dosages of leading ingredients, like Mucuna Pruriens Extract, which has been suggested to support Test and GH via its L-Dopa content.*L-Dopa is a precursor to the neurotransmittor Dopamine, which affects mood, sexuality, and movement. HEMOTEST 2XC also contains the industry's most concentrated dosage of Fenugreek Extract at 700mg per serving.
HELPS PROMOTE SEXUAL HEALTH*
HEMOTEST 2XC is super-charged with innovative ingredients that are designed to support sexual health and athletic performance.* One of these key ingredients, Mucuna Pruriens Extract, has been used in traditional medicine for decades to support sexual health.*
SUPPORTS BIO-FUNCTIONING*
HEMOTEST 2XC contains the patented and incredibly potent AstraGin extract, which was suggested in a study to help support nutrient uptake and cellular ATP by 18%, increase insulin sensitivity by 38%, and elevate post-workout muscular glycogen levels by 60%.* AstraGin works by helping your body to increase the volume of transporter chemicals and mRNA, which determine the quantity of nutrients that are absorbed into your intestines.*
In a university study, 75 healthy adult
males were given Mucuna Pruriens for 3
months as a part of a virility experiment.
Hormone levels were measured before and
after the supplementation period.
At the end of the study the results
showed significant increases in the
average levels of both pre-cursor
hormones and Testosterone.*
WHY SHOULD BODYBUILDERS TAKE HEMOTEST 2XC?
Testosterone is the most critical hormone for muscle building.* High testosterone levels are the biochemical signal to stimulate size and power increases. Optimizing natural test levels may support gains in size, strength and power.*

Natural testosterone production gradually declines as you age. The obvious solution for promoting healthy testosterone levels is to supplement with a natural product—like HEMOTEST 2XC—to help support your resting levels of testosterone.* Whether your goal is to build up an extra 10 pounds of muscle before your next contest or to lockout 405 on the bench, HEMOTEST 2XC may help make it happen!*
IS IT TRUE THAT HEMOTEST 2XC WILL NOT LOSE ITS EFFECTIVENESS OVER TIME?
Yes, unlike many other test-boosters, HEMOTEST 2XC will retain its effectiveness as you use it. Because HEMOTEST 2XC does not decrease your body's own natural testosterone output and does not shut down the biochemical signaling of Leutinizing Hormone (LH), 17-alpha-hydroxy testosteronegenase, Pregnenalone, Estrogen or Dihydrotestosterone (DHT), it should continue to be just as powerful over time.* HEMOTEST 2XC does not "interrupt" your body's natural testosterone manufacturing process.*
WHO SHOULD USE HEMOTEST 2XC?
HEMOTEST 2XC is very potent and should not be used by women and definitely not by anyone under the age of 18. But if you're looking to support your natural testosterone levels, then HEMOTEST 2XC should be part of your next stack, for building muscle and promoting strength!* Boosting testosterone can also include other "interesting" side effects such as supporting sexual health.*