Quick Links to Best Prices Price History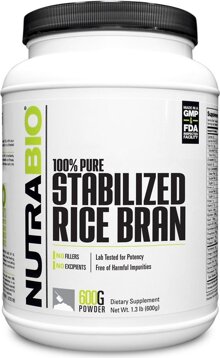 NutraBio Stabilized Rice Bran
NutraBio Stabilized Rice BranNature's Ultimate SuperFood!Build Muscle! Burn Fat!Simply Our Single Best Nutritional Product!
DETAILS:

Benefits of NutraBio Stabilized Rice Bran:

Increased Energy Levels.
Supports Immune Defenses.
Supports Normal Cholesterol Levels.
Promotes Heart Health.
DIRECTIONS
As a dietary supplement, take one scoop daily.
NUTRITION FACTS
Large 21 oz . . . 600 grams
Serving Size: 1 Scoop (10g) . . . 60 Servings
Mixes Great With All Drinks . . . Enhances Taste!
. . .or Eat Right Out of Can. . .Delicious Sweet Nutty Taste!
NutraBio Stabilized Rice Bran —The ultimate nutritional health supplement packed with over 100 antioxidants & co-factors.
Omega 3 & 6 and provides natural energy to support your total health and fitness throughout the day.
Gluten Free! Lactose Free! No Cholesterol! Zero Trans Fat!
The Athlete's Miracle Food!
Stabilized Rice Bran (SRB) is nature's highest source of Gamma-Oryzanol and Ferulic Acid.
Many of our athletic customer's refer to SRB as "God's Steroids" or "Nature's Steroids"!
Bodybuilders and weight lifters often resort to dangerous man-made steroids that cause a lot of health problems. . . and even death.
SRB is 100% SAFE and ALL-NATURAL!
In addition, this amazing product is the highest natural source of Pangamic Acid (Vitamin B-15) which is often called the "Russian Olympians' Secret". The Russian athletes found that pangamic acid increased oxygen to the cells and thus increased their endurance, stamina, and speed.
Illegal steroids may work more quickly to add size and strength, but Gamma-Oryzanol users will gain more muscle mass and strength in the long run. Using a very specific protocol, athletes who do heavy resistance weight training, will see these greater gains after a period of 16-18 weeks.
We recommend that any serious athlete will be wise to use SRB as a safe and effective alternative to dangerous anabolic steroids. The combination of Gamma-Oryzanol and Ferulic Acid found naturally in SRB will have the following effects:
-Increase Muscle Mass and Strength.
-Improve Body Composition and Decrease Fat.
-Enhance Recovery and Decrease Muscle Soreness.
-Increase Growth Hormone and Testosterone levels Naturally.
-Decrease Stress Levels.
-Boost the Immune System and Anti-Oxidant Protection.
The Athlete's Protocol: Instead of the usual recommended dosage of SRB, the athlete who desires to increase muscular size and strength should take ONE SCOOP of SRB with breakfast, lunch, and dinner. Tastes Great! Can be eaten right out of the canister or mixed in your favorite beverage.
Ultimate Nutrition
Over 100 Antioxidants & Co-Factors
Omega 3 & 6
Total Health Management
Increased Energy Levels
Supports Immune Defenses
Supports Normal Cholesterol Levels
Promotes Heart Health
Low-Glycemic Index (
Supports Healthy Glucose Levels
Great Diabetic Food!
SRB contains natural B complex vitamins, water-soluble polysaccharides and high quality protein. B-complex vitamins play an important role in glucose metabolism.
Niacin (Vitamin B3) is required for intracellular energy production, while providing nutritional support for the nervous system, including the peripheral nerves, by pyridoxin (Vitamin B6) and riboflavin (Vitamin B12).
Antioxidants are reported to be beneficial supporting proper glucose metabolism. SRB contains over 100 antioxidants, including tocopherols, tocotrienols, lipoic acid, gamma oryzanol, phytosterols and polyphenols, which play an important role in modulating blood sugar levels.
SRB Helps the Immune Function:
Immune competence plays a key role in maintaining overall good health and vitality. A wide-range combination of unique compounds such as phytosterols, sterolins (sterol glycosides), water-soluble polysaccharides, antioxidants, omega-3-& 6- fatty acids, and trace minerals are present in SRB in abundant quantities.
Besides these compounds, SRB has some important trace minerals and antioxidants, which promote optimal immune health.
SRB Helps to Maintain Normal Cholesterol & Triglyceride Levels:
The phytonutrients, omega-3 fatty acids and antioxidants present in SRB help promote normal cholesterol and lipid levels.
Tocopherols, tocotrienols, gamma oryzanol, phytosterols, ferulic acid, omega-3-fatty acids and minerals, such as magnesium and potassium, are some of the most important components of SRB that are responsible for the regulation of cholesterol metabolism (US Patent # 6,126.943, Oct. 3, 2000).
All of these phytonutrients act synergistically at various stages of cholesterol metabolism, such as synthesis, absorption, metabolism, and excretion levels in helping to maintain normal lipid and cholesterol levels.
SRB . . .The ALL Natural Super Food

SRB is a light soluble rice bran powder that easily integrates into your favorite beverage, such as smoothies, shakes and juices. SRB helps support a TOTAL HEALTH LIFESTYLE and provides instant energy for your day. Rice bran solubles taste is sweet, very mild and dissolves quickly.

Stabilized Rice Bran total health supplement powder is a complete, great-tasting, rich source of all the vitamins and minerals your body needs for complete nutrition. Rich in antioxidants and phytonutrients, SRB is a definitve super food health supplement.

SRB Super Food helps support:
Total Health Management
Increased immunity
Increased energy levels
Promotes Heart health
Normal Cholesterol Levels
Normal glucose levels
SRB Super Food Formulation:
Over 100 antioxidants & Co-factors
Natural source of Vitamin E complex
Abundance of phytonutrients
Natural source of B Vitamins
Omega-3 fatty acids
Omega-6 fatty acids
Gamma oryzanol (found only in rice bran)
Generous quantities of plant-based phytosterols
A wide range of macro & trace minerals
Polyphenols, polysaccharides & phospholipids
MONEY-BACK GUARANTEE! MADE IN USA!
Discover The Benefits of Stabilized Rice Bran
---
The Highest Quality and Most Trusted Soluble Rice Bran Product
Why include STABILIZED RICE BRAN
Soluble

in your daily diet?
Because You Are Not What You Eat. You Are What You Absorb!
Stabilized Rice Bran is essentially pre-digested, so it is very easy for your body to absorb all of the high-quality, plant-based nutrition.
Increases Your Energy Levels
Impressive Nutriet Profile (See Below)
Concentrated Nutrition
Potent Antioxidant Compounds
Gluten-Free food
Polyphenols, polysaccharides and phospholipids
Supports Your Immune System
Natural B-complex vitamin source
Wide range of macro and trace minerals
Supports Normal Glucose Levels
Omega-3 and Omega-6
Rich in Phytonutrients
Low Glycemic Index (below 55)
Virtually pre-digested making it easily absorbed
Soluble rice bran provides an impressive array of both fat-soluble and water-soluble antioxidants, allowing it protect your cells, both inside and out. Coming with their synergistic co-factors and catalysts, its antioxidants offer superior defense against cancer and other degenerative diseases.
Alpha Lipoic Acid is one of the most powerful antioxidants in soluble rice bran and is both water and fat soluble. It can penetrate and protect every cell of the body and it naturally boosts the body's production of Glutathione— a major cellular antioxidant. Studies have shown that Alpha Lipoic Acid definitely protects red blood cells and fatty acids from oxidative damage and protects cells from UVA damage. ALA increases the levels of intra-cellular glutathione, and is a natural antioxidant with free radical scavenging abilities. It has the ability to regenerate oxidized antioxidants like Vitamin C and E and helps to make them more potent. ALA is also known for its ability to enhance glucose uptake and may help prevent the cellular damage accompanying the complications of diabetes. It also has a protective effect in the brain. .
What does NutraBio Stabilized Rice Bran

taste like?
Being a grain product, you will find a slightly sweet, toasted cereal flavor. When made into a rice-milk beverage, you'll find it similar to the milk at the bottom of your cereal bowl.
SRB is made from the soluble fraction of stabilized rice bran.
How do you consume SRB in your daily diet?
1) Mix 4-5 ounces of water with each Tablespoon of powder (1 or 2 spoons is enough per serving)
2) Stir briskly (and a fork works better if you're not using a mixer.)
3) Let mix sit to allow the powder to fully dissolve, resulting in a 'rice-milk'.
Treat your body to one or two glasses each day ... and feel the difference.
Want More Ways to Include SRB in Your Daily Diet?
Sprinkle over hot or cold cereals

Mix into yogurt
Stir into your ice cream
Blend into your shake/smoothie
We're sure you can come up with many more ways.
SRB comes in a One Pound Size

It just keeps getting better and better !
Rice Bran OR Vitamins?
Most vitamins you would buy today are synthetic (not natural) and these types of vitamins could possibly do more damage to your body than good. When taken separately, vitamin supplements are not as readily available in the body as are the vital nutrients & natural antioxidants in rice bran.
Why?
It is a well established fact that a soluble powder (ability to dissolve in liquid) is more readily distributed and digested in your body; along with its almost immediate availability of vital nutrients to your body, when compared to a vitamin pill and/or capsule (The Physician's Desk Reference shows that vitamins and minerals in a pill form are only 10% to 20% absorbed by the body).
This is called Bio-availability and refers to the availability of nutrients to your body on a cellular level. Nutrients that are bio-available are naturally absorbed into your system very quickly (unlike synthetic vitamins), digested and then distributed to the various parts of the body where they are required to support total health, increased immunity and disease prevention.
Which means that Stabilized Rice Bran can be more efficient, with less waste, in the distribution of it's vital nutrients and antioxidants to your body than vitamins.
Stabilized Rice Bran Health Benefits:
Gluten Free
Lactose Free
Zero Cholesterol
Zero Trans Fat
Hypoallergenic
Non-GMO
Superior Health Maintenance
Low-Glycemic Food Ingredient
Great Weight Loss Management
Increased Energy Levels
Supports Immune Defenses
Maintain Healthy Cholesterol
Supports Heart Health
Helps Burn Fat
Stabilized Rice Bran In Your Diet:
Super Antioxidants
Omega-3 & Omega-6 Fatty Acids
Phytonutrients
Full Amino Acid Profile
Potent Antioxidants Including:

Alpha-Lipoic Acid
Ferulic Acid
Gamma-Oryzanol
IP6 (Inositol Hexaphosphate)
Phytosterols
Carotenoids
Tocotrienols

Special Vitamin E Complex
Natural B-Complex Vitamins
Soluble & Insoluble Fiber
Minerals & Trace Minerals
Beneficial Amounts Of Potassium, Calcium, & Magnesium
Hypoallergenic Protein
Where has Stabilized Rice Bran been all my Life?
Thrown away, is the sad answer to that, or used for things other than supplying nutritional supplements and nourishing people. Rice Bran is one of, if not the, biggest squandered food resource in the world. Rice bran is the brown part of the rice kernel, the part which is discarded to make the white rice that most of us consume. All around the world rice bran has been used for burning as fuel and/or dug back into the soil.
I Eat Rice - Don't I get my Stabilized Rice Bran that Way?
Sorry, but no. Eating brown rice might give you more fiber. The bad news is that most of the essential nutrients, vitamins and minerals plus the potent antioxidants found in rice bran are denatured during processing. Rice bran products are whole foods in themselves. This is basically concentrated brown rice, without all the white carbohydrate eaten with a rice-based meal.
What Does Stabilized Rice Bran Mean?
The problem with rice is that the brown part (the bran) contains oil which is very prone to rancidity, occurring within a few hours. The stabilization process deactivates lipase, the enzyme found in rice bran that causes the fat to spoil and stops this rancidity from happening.
WHAT YOU MUST KNOW ABOUT STABILIZED RICE BRAN:
There are 3 main types of rice bran products that you should be aware of:
1. RICE BRAN . . . this is the fiber part of the rice. It has no nutritional value! You can buy it cheaply at your favorite grocery store.
2. STABILIZED RICE BRAN + RICE BRAN (fiber) . . . this combination is found in some popular products that are heavily marketed. This type of product is not the most nutritious or desirable because basically you are getting a watered-down or more correctly, a fibered-down product. You will be paying far too much and getting way less nutrition per serving than with 100% STABILIZED RICE BRAN.
3. STABILIZED RICE BRAN (aka: Rice Bran Solubles) . . . this is the nutrient-dense portion from the rice kernel. This is what comprises the total makeup of NutraBio SRB! This is the Super Food product that is most desirable!
If you have any questions, feel free to contact us:
You are welcome to come by our retail store.
Ask for a FREE SAMPLE of this amazing product!
Discover The Benefits of NutraBio Stabilized Rice Bran Solubles!
The Highest Quality and Most Trusted Soluble Rice Bran Product!
Nutrient Profile:
GUARANTEED SPECIFICATIONS

Protein

7-12%

Fat

25-32%

Total Carbohydrates

50-60%

Total Dietary Fiber

0-6%

Ash

3-7%

Moisture

2-7%

Free Fatty Acids
MACRONUTRIENTS (g/100g)

Protein

7.50

Fat

26.50

Saturated Fatty Acid

4.80

Total Carbohydrate

57.50

Available Carbohydrate

54.50

Ash

5.00

Moisture (100 degree vac.)

3.00

Crude Fiber

4.60

Total Dietary Fiber

3.00

Soluble Fiber

3.00

Calories/100g.

486.50
VITAMINS

Vitamin A; Carotenoids (mcg/100g)

a-Carotene

8.10

ß-Carotene

0.00

Lycopene

0.20

Lutein

26.10

Zeaxanthin

10.90

Precryptoxanthin/Cryptoxanthin

1.27

Total Carotenoids

46.57

Vitamin B Complex (mg/100g)

Vitamin B1

3.60

Vitamin B2

0.46

Vitamin B3

76.60

Vitamin B5

5.82

Vitamin B6

5.81

Vitamin B12 (mcg/100g)

Vitamin C(mg/100g)

Vitamin E Complex (mg/100g)

Tocopherols (T)

8.00

Tocotrienols

10.00

Total Tocols

18.00

Other Micronutrients (mg/100g)

Folic Acid

Biotin

14.70

Choline

150.00

Inositol

149.00

Gamma-Oryzanol

248.10

Phytosterols (mg/100g)

Beta-Sitosterol

211.90

Stigmasterol

68.69

Campesterol

117.32

Brassicasterol

15.25

Total Phytosterols

413.16
MINERALS (mg/100g)

Sodium

15.75

Potassium

1562.00

Calcium

8.30

Magnesium

170.80

Phosphorous

763.00

Manganese

3.20

Iron

1.90

Copper

0.07

Zinc

1.75

Chromium (ppm)
Total Sugars(g/100g)

13.83

(No Lactose)