Quick Links to Best Prices Price History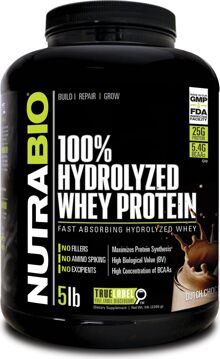 NutraBio Hydrolyzed Whey Protein
Product Description
Hydrolyzed Whey Protein
Hydrolyzed Whey Protein is a highly efficient and effective mass gain supplement with a massive 31 grams of the best quality milk protein in a single serving. Completely devoid of any additives, plant based proteins, caseins, whey concentrates or soy, Hydrolyzed Whey Protein is pure as well as formulated for quick absorption into the muscle.
The optimal protein synthesis qualities of Hydrolyzed Whey Protein are further bolstered by the BCAA concentration, a whopping 6.6 grams per serving. This allows Hydrolyzed Whey Protein to be absorbed into the muscles instantly, replenishing glycogen stores and reducing the breakdown of the vital muscle fibers to a significant degree.
What Does Hydrolyzed
Whey Protein

Contain

Hydrolyzed Whey Protein contains 100 percent Grade-A milk protein with no additional protein types. The isolated nature of the protein allows it to be absorbed very quickly into the muscles, allowing for significant mass gain, much better absorption and a higher concentration of BCAA.
---
Benefits of Hydrolyzed
Whey Protein
Apart from being absorbed by the muscles at a much greater rate, exclusion of other proteins such as Casein allows for a singular nature, which delivers optimal effects quicker. Some of the major benefits of Hydrolyzed Whey Protein are as follows.
Optimizes protein synthesis
Reduces the breakdown of muscle tissue
Incredible gains in muscle strength, mass and size
Faster muscle recovery
Longer and more consistent workouts
---
How to Take Hydrolyzed
Whey Protein
The recommended dosage of Hydrolyzed Whey Protein is 1 scoop, with skimmed milk or water. For a creamy shake, mix with 6-8 ounces of milk.
---
Side Effects of Hydrolyzed
Whey Protein
Hydrolyzed Whey protein has no known side effects. However, caution is advised for those with a history of liver and/or kidney diseases, high blood pressure and heart problems.
Warning: This product is not to be taken by children under the age of 18, mothers who are currently lactating and pregnant women.
---
Product Specifications
Category:

WheyProtein

Manufacturer: Nutrabio
Servings per Container: 29 servings – 2lb pack, 73 servings – 5lb pack
Serving Size: 1 Scoop
Each Serving Delivers: Hydrolyzed

Whey Protein

– 31.6gm
Flavors: Vanilla, Unflavored and Chocolate.