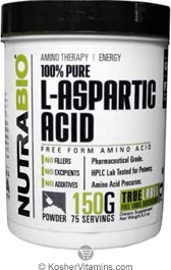 NutraBio Aspartic Acid Powder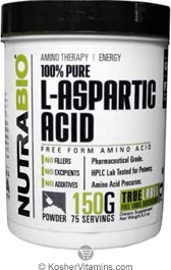 NutraBio Aspartic Acid Powder
NutraBio Kosher L-Aspartic Acid Powder Description:


Benefits of NutraBio Aspartic Acid Powder:
Aspartic Acid, first isolated in 1868 from legumin in plant seed, is a non-essential amino acid, which means that it can be manufactured by the body with proper nutrition. It can be found in abundance in animals and plants, especially sugar cane, sugar beets and sprouting seeds.

L-Aspartic Acid is important in the metabolism and construction of other amino acids and biochemicals in the citric acid cycle. Among the biochemicals that are synthesized from Aspartic Acid are asparagine, arginine, lysine, methionine, threonine, isoleucine, and several nucleotides.

It is needed for stamina, brain and neural health and assists the liver by removing excess toxic ammonia, (a byproduct of the breakdown of muscle tissue caused by strenuous exercise) and other toxins from the bloodstream. Aspartic Acid is also very important in the functioning of RNA, DNA, as well as in the production of immunoglobulin and antibody synthesis. Deficiency symptoms may include fatigue and depression. It is found in dairy, beef, poultry, and sprouting seeds.

L-Aspartic Acid plays a vital role in energy production. It is one of the components necessary to move high-energy NADH (nicotinamide adenine dinucleotide) molecules from the main body of a cell to its mitochondria, or primary energy-production areas. Once there, the NADH is used to generate ATP, the energy fuel that powers all the cellular activity. Supplementing with L-Aspartic Acid increases resistance to fatigue and allows performance athletes and bodybuilders to sustain longer workouts with greater performance, less fatigue, increased stamina and increased endurance. Low levels of aspartic acid can cause chronic fatigue, because it can lead to lowered cellular energy.

L-Aspartic Acid is also involved in proper fat and/or glucose metabolism and has been studied as a potential treatment for fat and/or glucose metabolic disorders of some overweight or obese individuals.

Aspartic Acid is good for helping the body get rid of harmful ammonia. When ammonia enters the bodies circulatory system, it acts like a highly toxic substance which can harm the central nervous system. Recent studies show that Aspartic Acid may increase resistance to fatigue and increase endurance. Aspartic acid is one of the key components in all living things. Proteins are synthesized by formation of peptide bonds during ribosomal translation of messenger RNA.
Disclaimer:
These statements have not been evaluated by the Food and Drug Administration. This product is not intended to diagnose, treat, cure, or prevent any disease.