Quick Links to Our Prices Price History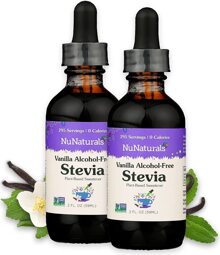 NuNaturals Pure Liquid NuStevia Cherry Vanilla Description
Pure Liquid
Dietary Supplement
NuNaturals uses a highly concentrated NuStevia extract and should not be confused with less potent powdered herbs or extracts. NuNaturals uses plant-based natural flavors that help to make our Stevia products the best-tasting ones available. NuStevia brand Stevia is a natural plant extract. The vanilla used in this product is produced from high quality vanilla beans made by Singing Dog Vanilla.
Directions
Shake before using. Use 5-10 drops directly in your favorite food or beverage.
Free OfCalories, msg, soy, milk, synthetics, artificial colors or flavor, preservatives, saccharin, aspartame, sucralose, or artificial sweeteners.