Quick Links to Best Prices Price History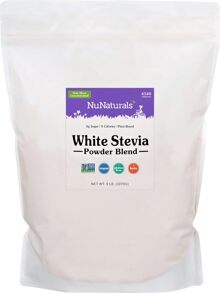 NuNaturals NuStevia White Stevia Powder
NuNaturals NuStevia White Stevia Powder Description
NuNaturals uses the special, highly concentrated Stevia extract, NuStevia, from which the bitterness of the extract has bee removed. Be assured that this is a true Stevia extract, consistent in the quality that you expect from NuNaturals.
Maltodextrin is a carbohydrate derived from corn, added to make measuring easier. NuNaturals uses plant-based natural flavors that help to make the Stevia products the best-tasting ones available. NuStevia is a natural plant extract.
NuNaturals NuStevia White Stevia Powder packets provide the ultimate convenience. The packets make it very easy to take Stevia with you to work, restaurants, or other places where you may want to use NuStevia. The pre-measured packets take the guesswork out of how much NuStevia White Stevia to use.
NuStevia White Stevia Extract Powder is highly concentrated and great for use in recipes or large batches of beverages. The liquid extracts are another convenient way to use NuNaturals Stevia. The extract can be measured by the drop, allowing greater control over the amount used.
While the Indians of Paraguay have used Stevia for centuries, the Europeans first learned about it from Spanish conquistadors of the sixteenth century. Word was sent back to Spain that the South American natives were using an herb in their drinks to improve the taste. Today Stevia is used by millions of people all around the world.
NuNaturals NuStevia is a superior Stevia extract without the bitter taste that has been traditionally associated with Stevia. Through an all-natural process, the bitter-tasting components are removed. In addition, natural flavors further enhance the taste of the extract, providing you with the best-tasting Stevia products available.
NuNaturals Stevia products will not raise blood sugar levels and therefore are safe for diabetics.
Directions


Suggested Use: Add 1 packet directly to your food or beverage.
Free OfSoy, yeast, gluten, wheat, milk, synthetics, artificial colors or flavors, msg, preservatives, saccharin, aspartame, sucralose, or artificial sweeteners.