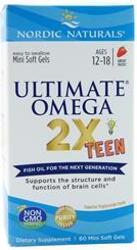 Nordic Naturals Ultimate Omega 2X Teen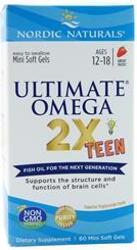 Nordic Naturals Ultimate Omega 2X Teen
Nordic Naturals - Ultimate Omega 2X Teen Strawberry - 60 Softgels
Nordic Naturals Ultimate Omega 2X Teen is fish oil for the next generation that supports the structure and function of brain cells. Good nutrition is essential for healthy brain development, well into a child's teen years and even early twenties. But getting teens to eat right—especially when they're multitasking and on-the-go—is no easy task. Help support your teen's health and ongoing development with Ultimate Omega 2X Teen. With more than 1000 mg omega-3 EPA+DHA in every serving, this high-intensity formula provides serious support for learning and cognitive function in a great tasting, strawberry-flavored mini soft gel that's easy to swallow and even tasty to chew.
High intensity omega-3 concentrate for ages 12-18
1120 mg omega-3 per serving
Strawberry-flavored mini soft gels that are easy to swallow and tasty to chew
Supports optimal brain function and a healthy mood
Supports normal cognitive function, social development, and learning
Unlike other brands, Nordic Naturals make all their fish oil concentrates in the triglyceride molecular form—the form naturally found in fish, and the form your body most easily absorbs. Everything they make is non-GMO and third-party tested, surpassing the strictest international standards for purity and freshness. Nordic Naturals fish oils are Friend of the Sea (FOS) certified and sustainably made in a zero waste facility powered by biofuel.

Probiotics
Probiotics are live microorganisms that help us digest our food, absorb essential nutrients, and keep our immune systems functioning properly. A healthy digestive tract with a thriving microbiome is essential for overall health.
Nordic Naturals probiotics are research-supported formulations tailored to the digestive wellness needs of both adults and children. Their probiotics feature superior-quality, shelf-stable ingredients. Each includes a strategic combination of probiotic strains, plus prebiotic FOS, to promote a viable microbiome in the intestinal tract.