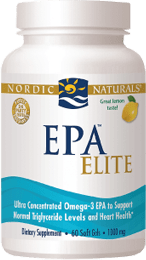 Nordic Naturals EPA Elite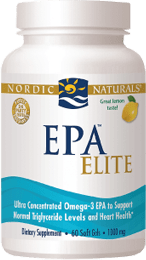 Nordic Naturals EPA Elite
Nordic Naturals EPA Elite 1000mg 60 Softgels
Nordic Naturals EPA Elite is a quality fish oil supplement that contains potent ingredients like Omega-3 fatty acids. Nordic Naturals EPA Elite provides the highest concentration of omega-3 EPA for high-intensity support for the heart. EPA has also been shown to help support normal triglyceride levels and promote key anti-inflammatory pathways.
---
Highlights:
3rd Party Tested - Purity • Freshness
Great Lemon Taste!
Ultra Concentrate Omega-3 EPA to Support Normal Triglyceride Levels and Heart Health
Dietary Supplement
Pharmaceutical Grade
Molecularly Distilled
---
Benefits:
Supports Brain Health
Supports Optimal Health
Enhances Ant-Inflammatory Response
---
Directions:
Two soft gels daily, with food, or as directed by your health care professional or pharmacist.
---
Ingredients:
Supplement Facts
Serving Size: 2 Soft Gels
Servings Per Container: 30
                Amount Per Serving       %Daily Value*
Calories
20
Calories from Fat
20
Total Fat               2.0 g       3%
Saturated Fat     0 g          0%
Trans Fat              0 g          †
Total Omega-3s                1660 mg               †
EPA (Eicosapentaenoic Acid)       1600 mg               †
Other Omega-3s              60 mg    †
*Percent Daily Values are based on a 2,000 calorie diet.
†Daily Value not established.
Less than 5 mg of Cholesterol per serving.