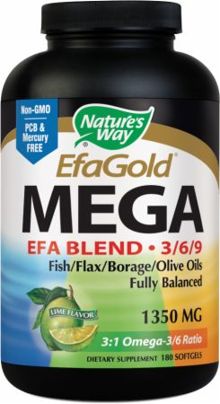 Nature's Way MEGA 3/6/9 EFA Blend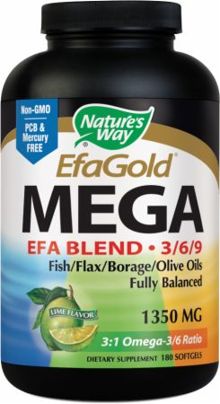 Nature's Way MEGA 3/6/9 EFA Blend
Nature's Way MEGA is a comprehensive blend of essential fatty acids from fish, flax, borage, and olive oils from non-GMO seeds and molecularly distilled/ PCB free fish oil. MEGA contains the following healthy fatty acids: ALA, EPA, DHA, GLA and OA.
MEGA provides a variety of EFAs for daily supplementation. The 3:1 Omega-3 to Omega-6 ratio helps to rebalance the over-abundance of the LA Omega-6 fatty acids in your diet within a normal range. MEGA is the most complete daily source of Omega-3/6/9 fatty acids for healthy skin, joints & cardiovascular function.*
MEGA is all natural, with cold pressed & hexane-free plant oils and fish oil that is free of contaminants including testing of pesticides, herbicides, PCBs, dioxins, and heavy metals such as mercury.
FDA Qualified Health Claim for fish oils. Supportive but not conclusive research shows that EPA & DHA may reduce the risk of coronary heart disease. (See nutrition information for total fat and cholesterol content.)