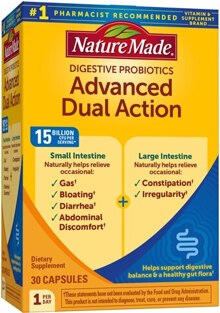 Nature Made Digestive Probiotics Advanced Dual Action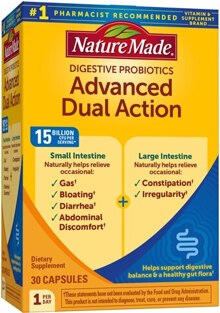 Nature Made Digestive Probiotics Advanced Dual Action
Nature Made - Digestive Probiotics Advanced Dual Action 15 Billion CFU - 30 Capsules
Nature Made Advanced Dual Action Probiotics provide comprehensive coverage with two clinically studied strains of probiotics that help support the healthy gut flora in your upper and lower intestines:
Lactobacillus plantarum 299V works in the small intestine to help relieve occasional gas, bloating, and abdominal discomfort.
Bifidobacterium lactis SD-5674 works in the large intestine to help relieve occasional constipation and irregularity.
Advanced Dual Action
Small Intestine
Works in the small intestine to naturally help relieve occasional:

Gas
Bloating
Diarrhea
Abdominal Discomfort

Large Intestine
Works in the large intestine to naturally help relieve occasional:
Why take Advanced Dual Action Probiotics?
A healthy digestive tract is important for overall health and wellness. A healthy digestive tract includes a balanced amount of "beneficial" bacteria, but various factors, including physical stress and diet, can upset this balance. Nature Made Advanced Dual Action Probiotic provides two high-quality, scientifically-studied probiotics to help support digestive balance and a healthy gut flora, providing comprehensive support for digestive health.
Nature Made Advanced Dual Action Probiotics are gentle enough for everyday use, one pair of capsules should be taken daily for best results.
Helps support digestive balance and a healthy gut flora
No synthetic dyes, no artificial flavors, and no preservatives
No dairy, 100% vegetarian, and gluten free
No refrigeration necessary
Guaranteed potency until expiration
Clinically efficacious dose
Nature Made is a 40-year heritage brand
Frequently Asked Questions
Are there any drug interactions that you need to be aware of?
Consult your physician if you are taking any blood thinning medications such as coumadin/warfarin, or if you are on aspirin therapy.
Can anyone take Turmeric Curcumin?
If you have a history of gall stones or bile duct obstruction, or if you are pregnant or nursing, avoid taking this product. Discontinue use at least 2 weeks prior to undergoing surgery.
What is Turmeric?
Turmeric is a shrub related to ginger and is native to tropical regions of Southern Asia. The root is used as a spice, coloring agent, and in traditional medicine.
What is Turmeric Curcumin used for?
Turmeric is an ancient Indian spice known for its antioxidant benefits. Antioxidants help to neutralize free radicals in the body. Turmeric contains the active compound curcumin which makes it vibrant yellow in color. Curcumin is responsible for its antioxidant benefits.
Science Based
At Nature Made, scientific research is the starting point for every product they make. Whether from published research or their own clinical trials, they only make dietary supplements that their scientists have concluded science supports as being safe and providing a benefit to their consumers. That means they consider the scientific basis for each product long before it is developed, manufactured, and put on the market.
They aim to be the model against which all other dietary supplement companies are measured, which is why they have a rigorous three-pronged approach to evaluate and substantiate the scientific basis for their products:
Review of Scientific Literature
They constantly track emerging science on nutrition, but they do not chase fads. On staff they have PhDs and Registered Dietitians that lead health and nutrition discussions within their company, and they also discuss the latest scientific facts with the Nature Made Scientific Advisory Board. Through this review process, they often choose not to develop products that may be popular or in the news because they lack sufficient benefit or safety evidence.
Among examples, Nature Made long delayed developing a Cinnamon product and never followed the trend to develop an Ephedra product. Why? Because they want to ensure that their products have scientific support for safety and consumer benefit. Scientific support is not the same thing as scientific consensus; Pharmavite may act on credible emerging science before there is scientific consensus on the product.
Support for Public Studies
They feel strongly that vitamins and supplements deserve more independent academic and institutional research. They are proud that Nature Made supplements are sought out for clinical research studies by the leading science and health institutions because they can count on their product quality and consistency. In the last 20 years, Nature Made products have been utilized or cited in numerous clinical studies.
Product-Specific Clinical Trials
For certain Nature Made products, they design and implement clinical studies to measure the benefit provided by their unique ingredients or blends. As a first example, they recently clinically tested their CholestOff product and, as they expected based on the studies previously done on the main ingredient in their product, found their product provided clear efficacy for lowering LDL cholesterol levels. They intend to continue this path of specific clinical studies for select Nature Made products.
Beyond their products, they are committed to advancing Evidenced-Based Nutrition (EBN) science - an inclusive research model that considers the totality of all available evidence. Their experts work closely with researchers and health care professionals to share information and engage in dialog to better understand the human body and what makes people healthier.
High Quality
For more than 40 years, they have been obsessed with quality at Nature Made. From ingredient sourcing, to industry-leading manufacturing practices, to investment in new innovations, they believe it is their responsibility to lead in delivering quality products and a quality consumer experience.
This commitment to quality is critical because each year Nature Made produces more than 150 kinds of supplements, filling 120 million bottles with 11.5 billion tablets, capsules, softgels and gummies. It is a responsibility they embrace. They have often been part of pushing the supplement industry forward, and setting the standards that become the model for industry-wide regulation.
As part of a commitment to quality, Nature Made has a strict quality control process for responsible manufacturing. In addition, they invest millions of dollars in new technologies and follow rigorous production processes to ensure the superior quality they promise to their customers. This commitment to quality relies on two foundational elements:
Sourcing
The path to quality products at Nature Made starts well before reaching their manufacturing centers. They work with the highest quality suppliers, and they ensure the quality levels of each new supplier via audits conducted by themselves or experts they select. This ensures that their suppliers have clean, compliant facilities that follow Good Manufacturing Practices (GMP). Throughout the sourcing process they require their suppliers to show a Certificate of Analysis (COA) for the identity and quality of the ingredients they provide them.
Their Process
From the moment ingredients reach their US-based manufacturing facilities, they are dedicated to some of the most demanding safety and quality standards in the industry. Every step of their product development process is focused on delivering the highest quality dietary supplements possible. When ingredients arrive, they are tested for identity, and they continue verification at every stage of the manufacturing process to ensure they meet or exceed industry standards -- using techniques like infrared scanning, high performance liquid chromatography and mass spectrophotometry. As ingredients are weighed, blended, compressed, encapsulated, inspected and finally packaged as different vitamin products, they test or inspect appropriately to ensure quality.
Accountability
Ultimately, they answer to you. So at Nature Made, they take pains to ensure they meet your high expectations. From independent, third-party verification to their money-back guarantee, you can trust them to say what they mean and mean what they say.
Independent Third-Party Verification
They are immensely proud of their quality, but you don't need to take their word for it. Verification by knowledgeable, independent experts ensures that their commitment to quality is worthy of your trust. As a trailblazer in the supplement industry, Nature Made was the first vitamin brand to earn United States Pharmacopeia (USP) verification through the USP dietary supplement verification program on many of its products. As well, Nature Made is the #1 Pharmacist Recommended brand in nine key segments as ranked by Pharmacy Times, which polls pharmacists across the country about the brands they recommend.
The Nature Made Promise/ Love Them or They're Free
Your satisfaction is their primary concern. If you're not completely satisfied with any product, they'll refund your purchase, no questions asked. That's more than corporate policy. It's what they call The Nature Made Promise.