Quick Links to Best Prices Price History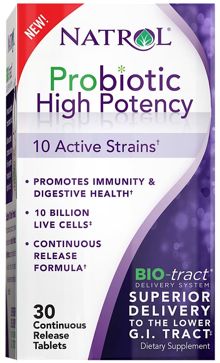 Natrol Probiotic High Potency
Immunity and Digestive Health
Most probiotic products only have one to two strains of probiotics. Natrol Probiotic High Potency contains a proprietary blend of ten active probiotic strains that are naturally derived and are not genetically modified. Natrol Probiotic High Potency contains 10 billion live cells and helps with immunity and digestive health.
What's the benefit of BIO-tract Delivery System?
Provides Gastric Acid Protection
Powders, liquids and capsules, even cultured dairy products, do not provide protection from stomach acid causing the vast majority of live probiotics to die before they reach the lower gastrointestinal tract.
BIO-tract, a patented delivery system that protects probiotics from stomach acid, enables live probiotics to reach optimal sites in the gastrointestinal tract.
Continuous Release Probiotic Delivery
Natrol Probiotic High Potency continuous release formula provides optimal delivery of live organisms through the digestive tract.