Quick Links to Best Prices Price History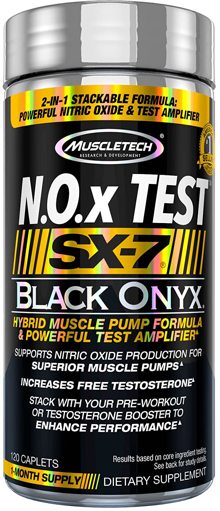 MuscleTech N.O.x Test SX-7 Black Onyx
Hybrid Muscle Pump Formula & Powerful Test Amplifier*
SUPPORTS NITRIC OXIDE PRODUCTION FOR SUPERIOR MUSCLE PUMPS*
INCREASES FREE TESTOSTERONE*
STACK WITH YOUR PRE-WORKOUT OR TESTOSTERONE BOOSTER TO ENHANCE PERFORMANCE*
Hybrid Muscle Pump Formual & Powerful Test Amplifier*
SX-7 researchers have engineered a dual-function formula backed by real human clinical studies on its core ingredients. N.O.x Test SX-7 Black Onyx is an intense nitric oxide and muscle pump inducing formula with the added benefit of boosting testosterone. Using studied key ingredients, N.O.x Test SX-7 Black Onyx delivers a unique experience that is completely stackable with other pre-workouts or testosterone boosters.
L-citrulline – An amino acid that is a precursor to arginine, shown to reach superior peak plasma arginine levels than a larger dose of L-arginine.
L-arginine – An amino acid shown to increase blood flow and vasodilation to support muscle pumps.*
Quercetin – A bioflavonoid shown to increase key markers of nitric oxide production and reduce a vasoconstricting factor.*
Red wine fruit extract – Supplies proanthocyanidins − a key polyphenol − which emerging research shows may support the production of nitric oxide.*
Boron – Shown in human clinical research to increase free testosterone and decrease estradiol in just 7 days. Free testosterone is the most bioavailable form of testosterone and supports the musclebuilding process.
Rhodiola crenulata and Ginkgo biloba – This combination of ingredients has been shown in a human clinical study to maintain peak testosterone-to-catabolic-hormone ratio and enhance performance.
Brassica oleracea and Bladderwrack extract – Supplying diindolylmethane and fucoxanthin.