Quick Links to Our Prices Price History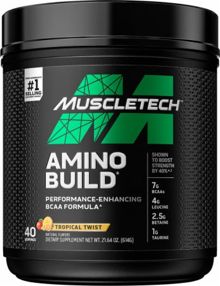 A Superior BCAA+ Amino Acid Formula
New Amino Build is a superior pre-, intra-, and post-workout complex delivering a massive 8g of 100% free-form 2:1:1 BCAA matrix (per 2 scoops) to help fuel skeletal muscles, preserve muscle glycogen stores and reduce protein breakdown.*
Enhances Endurance with First Dose*
Volumizes Muscles During Training*
The branched chain amino acids in Amino Build are 100% free-form. Free-form amino acids are singular molecules, which means they are quickly digested and absorbed by your bloodstream.*
Amino Build Ingredient Breakdown
Amino Build is precisely formulated with a 4-gram dose of L-leucine.1
Amino Build comes packed with a clinically studied 2.5-gram dose of Betaine added to the formula that helped subjects significantly enhance their muscular endurance.2 Also, a 1-gram dose of Taurine was added to the formula which has been clinically shown to improve performance in endurance athletes when consumed 2 hours prior to cardio.3
In addition to its key ingredients, the formula delivers 4g of a Cell-Volumization Muscle Complex comprised of Taurine, L-glutamine, L-citrulline malate, and L-alanine. Together, these compounds work to enhance cell volumization during training.*
Amino Build was flavored by experts in one of the world's top flavoring houses in order to taste better than any other amino acid powder on the market.
References
Ispoglou et al. 2011. International Journal of Sports Physiology and Performance. 6(1), 38-50.
Hoffman et al. 2009. Journal of the International Society of Sports Nutrition. 6:7.
Balshaw et al. 2012. Amino Acids.